Stoneware vs. Ceramic Dinnerware
By Fable Home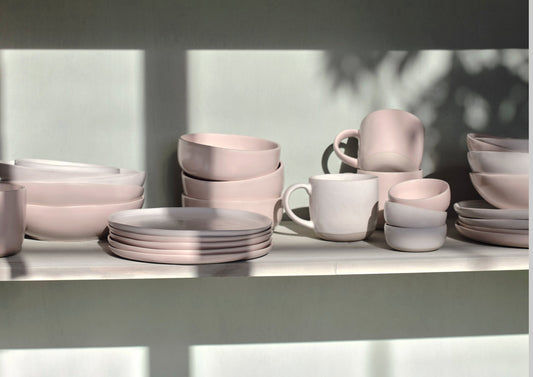 If you've ever perused a dinnerware section in a store or online, you probably know there are many different styles and types of dinnerware.
It can be tough to know what you should choose to fit your needs best. To help you make a solid decision, we will go over the different types of dinnerware. It's important to learn what sets them apart, because they are all not created equal.
At Fable, we create beautiful one-of-kind stoneware pieces from Portugal, but there are many other types of ceramics to go over.
What is Stoneware?
Stoneware has been around for centuries and has improved over time.
It is made from clay and fired at high temperatures to make it nonporous and durable. The name comes from its stone-like appearance; before being glazed, it looks almost like natural stone. Some stoneware is glazed to have a colorful matte or glossy finish. Fable stoneware is semi-matte and finished with a non-toxic and lead-free glaze.
Stoneware's high firing temperature is between 2,510 and 2,330°F. It also has a slightly thicker design and can withstand heat up to 450°F.
Stoneware originally began back in ancient China, reaching popularity during the Shang Dynasty in 1400 BCE. In the 17th century, China started exporting its stoneware to Europe, and it eventually made it all over the world. Once other nations had it, they began to recreate it using clay from their own countries.
Stoneware has stood the test of time and is still a popular option for dinnerware. We trust talented Portuguese makers to thoughtfully craft Fable's stoneware, and hand-finish it to give it an organic look and feel. We offer muted colors and traditional styles that enhance each other and fit seamlessly with the atmosphere of your home. This makes shopping for dinnerware, and adding to your existing sets, as easy as can be.
Stoneware is not the only dinnerware made from clay on the market.
Other Types of Ceramics
Now that you know all about the brilliance of stoneware, you're ready to hear about the amazing variety of other ceramics: earthenware, bone china, and porcelain.
Each type is uniquely different, and learning about them can help you make a decision on which you should invest in for your home.
Porcelain:

Porcelain

is made from white clay. Similar to stoneware, it was first produced in China.

It is versatile and durable due to the high firing temperature. Porcelain is often used for formal dinners. It is also easy to use and clean since it can go in the dishwasher and is microwave and oven-safe.
Bone China:

Bone china

is a lightweight fine China. As the name suggests, it actually contains real bones (from cows usually)—vegetarians and vegans may want to be well aware of that when choosing their ceramics. This unusual component is mixed with ceramic materials and is thinner and smoother than porcelain. It also gives it a creamy, white color and opaqueness. While not thick, it is still durable, making it chip-resistant.

Bone china is often quite expensive compared to other ceramics because of the bone ash used to make it. However, not all bone china is premium quality. It all depends on how much bone is in the mixture. The best type is at least 30 percent bone.
Earthenware: Various clays make earthenware, but interestingly, it isn't fired at a high temperature like other ceramics. It is generally not as durable as your other choices on the market because it can tend to be porous.

Since it is porous, liquids can absorb into it and stain it. However, if it is adequately glazed, it can be waterproof. If you're looking for the most natural-looking, rustic dinnerware, you can't beat earthenware.

Earthenware pieces are pretty heavy but will crack because they are prone to damage when exposed to significant changes in temperature. Try to avoid taking something out of the refrigerator and right into the microwave.
Dinnerware Sets
Now that you know about stoneware and other types of ceramics, you can choose the best one for you.
You can find complete dinnerware sets in all of these different materials. A formal place setting usually includes five to six pieces that you probably won't use every night. However, if you know you'll never be hosting formal dinners, you may be best getting a basic set.
At Fable, we make beautiful 20 piece sets and a few individual pieces. The amount of dinnerware pieces that you need all depends on the number of people in your household. Our dinnerware bundles come with stoneware for four people. They include everything you need for a delicious dinner, from flatware (if you choose our Dining Essentials option) to dinner plates to mugs and more. If you like to host parties and holiday gatherings, it may be beneficial to invest in some extra dinnerware for those special occasions.
While some people have special dinnerware for entertaining and divide sets to accommodate everyday life, you can do both with Fable. Our simple designs work for any gathering. You can elevate any party with a tablescape instead of relying on unique dinnerware that won't fit in your day-to-day routine.
Fable's aesthetically timeless designs are meant to last for years and won't go out of style. Our bundles even allow you to mix and match with different colors for your set. All of our glazes pair well together, and they will look intentionally well-matched no matter what you choose.
Final Thoughts
There are many options for dinnerware to meet everyone's needs and desires. Whether you want stoneware or a different type of ceramic, there are a few things to consider.
You can get fancy pieces like bone china or porcelain, go for an all-natural look with earthenware, or pick the timeless aesthetic and durable option of stoneware.
At Fable, our stoneware is one of the most durable and is made from high-quality clays. We offer 20-piece dinnerware bundles as well as table settings for four people. We also have individual sets for purchase if you are just looking for dinner plates or bowls.
Our ceramics come from the central coast of Portugal, and our ceramics are durably crafted with intention. Our ceramicists are passionate and knowledgeable and celebrate Portugal's long-standing ceramic traditions. Fable's products have a uniqueness that you can see and feel, making it easy and enjoyable to set your table with Fable for many years to come.
Sources:
Chinese Porcelain Silk Roads Programme | UNESCO
How to Tell If Your Bone China Is the Real Deal | Pure Wow