Different Types of Plate Garnishes
By Fable Staff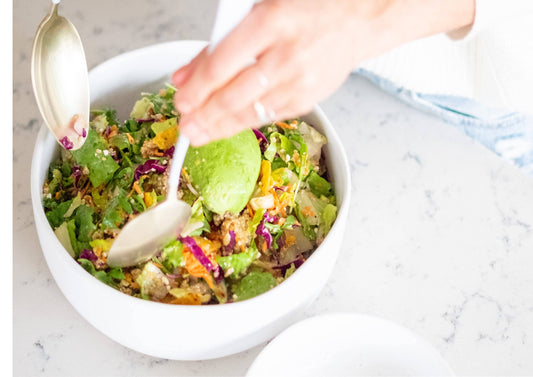 When you have friends and family over, it's nice to serve fantastic food and present it beautifully. Everyone loves a carefully curated plate—it shows that you've put plenty of thought into planning the meal.
No matter the occasion, your food should appeal to more than just your taste buds. A great meal is all about visual appeal and the overall experience. Rather than plating your food on its own and immediately serving it to your guests, slow down and fill up any space on your plate. It doesn't necessarily need to be too much more substance, but rather just a few things that work to pull your masterpiece together.
Plate garnishes are the perfect way to make all of your food visually appealing. With countless options, you can use your dishes as blank canvases and create an entire experience for your guests.
A major bonus is that plate decor can taste great, too. These garnishes allow you to incorporate various colors and flavors that your plate otherwise may have been lacking.
Fruit and Berry Plate Garnishes
One of our favorite plate garnishes is fruits and berries—they make the perfect addition to any breakfast or brunch plate. We recommend trying to incorporate fruit and berries that are in season.
Keep an eye out at your local grocery store or farmer's market for what is on sale and looks fresh. You can even do a bit of research to see what's in season in your area at any given time.
Including fruits and berries on your plate helps your food look fresher, brighter, and more pulled together. Additionally, you can soak up all of the various vitamins found in fruit, such as vitamin C and vitamin A.
Think carefully about what you're serving and what other flavors your guests would enjoy. For example, if you are serving blueberry pancakes or french toast, you could always include a small fruit salad on the side. This creates an amazing contrast to the fluffy, golden brown breakfast that also sits on your plate.
Or, if you're thinking of serving an eggs benedict, you could include mango and pineapple on the side. The yellow will pair perfectly with the hollandaise sauce. Another sweet and sour yellow fruit that would look amazing is a thin slice of lemon. Finally, toss some watermelon, cantaloupe, and red grapes onto the other side of the plate, and it will both look and taste its best.
The next time you're serving your guests an early morning meal, bring in an extra color so you can start your morning off on the right note. These Blush Pink Plates are just the way to do this. The best part is, there are more than just plates! We also recommend our Cereal Bowls and Mugs in the same color to tie everything together.
Vegetable Plate Garnishes
A plate garnish similar to fruit and berries that offers a nice pop of color yet brings in more tart and earthy flavors is—you guessed it—vegetables.
When including vegetables on your plate as edible decoration, try to thinly slice, peel, or spiral them. Vegetables are easy to manipulate when it comes to their shape, so you should use this to your advantage.
Although, beware that it's best to thinly slice or include vegetables as plate decor in moderation. For instance, you don't want a chunky carrot to take away from your dainty, beautiful dinner plate presentation.
Herb Plate Garnishes
If your meal already includes vegetables and you're still looking for a plate garnish, another amazing route to take is herbs. Herbs not only make your plate look more appealing and fill up any extra blank space, but also activate your sense of smell.
While we're sure your food smells amazing, it will smell even better when complemented by the right fresh herbs.
The first way to use herbs as a plate garnish is to reuse the ones you are cooking with. If you are making a lemon chicken with rosemary and thyme, delicately place a cooked sprig of each on top.
Another way to use herbs is to use them fresh. Place a sprig off to the side on each plate, as it will draw in more attention on its own. You could even add a sprig of lavender to your table setting to add a pop of color, creating a full experience.
The next time you have guests over for a backyard barbeque or garden lunch, you can bring in earthy tones and textures to tie the table setting together. Serve your lunch on these Dove Gray Plates, and try using cork coasters to add a natural element.
You can even use empty wine bottles as candle holders so that as the wax drips, it hardens beautifully on the bottle to create a unique, sculptural look to add depth to the tabletop.
Nut and Seed Plate Garnishes
Nuts and seeds also make great plate garnishes, and also serve as flavorful additions to complement your favorite foods. We recommend using these as garnish when plating your food in bowls, such as for pasta night or a side salad.
Nuts and seeds look adorable on top of a nest of your favorite noodles. If you spin your noodles into a circle in their Pasta Bowl, then you can place pine nuts or sunflower seeds on top of the pile. Nuts and seeds allow you to add another color that stands out against a light, neutral backdrop, such as a white cream sauce pasta or the Speckled White Pasta Bowl.
When using nuts and seeds as a garnish for a salad, make sure to first toss the salad before placing the garnish on top, right before it is served. That way, the salad will stay crisp and fresh, and the garnish will remain on top instead of being mixed into the salad. If you place the garnish on top before mixing, chances are it will get lost in the overall appearance of your bowl and won't serve its purpose as a plate garnish.
Sauces and Purees as Plate Garnishes </h2>
Sauces and purees are stunning visual additions to your plate, although they may require a bit of extra time. Sauces and purees go well with more filling meals that don't need too many extra elements on the plate. Otherwise, the dish may look cluttered and overwhelmed.
A bright or pale-colored sauce or puree looks stunning as a garnish on a darker plate, such as these Midnight Blue Plates.
When it comes to garnishes, sauces tend to be on the easier side since you can reuse the ones you're cooking with. Take a spoonful of your favorite sauce and spread it out onto your plate, or go the extra mile and plate it in small round dots instead.
You can plate purees the same way you would sauce. However, the reason this takes more time is that you need to first make the puree. This can be quite tricky as it often requires fresh ingredients so that your puree remains bright in color.
You can also plate a mashed potato or sweet potato in a pinch in the same way you would a sauce or puree. While you would need to spread these quite thin, they can often have the same visual effect.
Why Use a Plate Garnish
There are many reasons why you should make use of plate garnishes the next time you have company over. They are quite simple and can be easy if you prepare them properly, so there are few excuses for why you shouldn't use them.
Visually Appealing
Plate garnishes are visually appealing. They have the power to bring in that much-needed pop of color, or work to bring out different shades of color that are already present on your plate. While they can impact the taste of your meal, they are mostly there for show. This evokes your other senses and makes your food more visually enticing and appealing.
Plate garnishes allow you to go the extra mile for your guests by taking your presentation game to a whole new level. Without plate garnishes, your table may look empty and bland, even when you have all of your closest family and friends sitting around it.
Heighten the Flavors
While it is not their main purpose, plate garnishes can heighten the flavors of your meal. The nice thing about plate garnishes is that they encourage people to slow down and take a good look at their food while taking in all of the aromas. As a result, people eat slower and pay more attention to the mouthful of flavors they are enjoying.
They support the flavors that are already present on your plate. They can even bring out different tones and notes, such as sweet and savory flavors, that you may not pick up on otherwise.
Step Up Your Garnish Game
Now that you know a few of the many different types of plate garnishes out there, why not put your knowledge into practice? Step up your garnish game the next time you have friends and family over to make the experience that much more special.
Plate garnishes can be your new secret ingredient, along with a dollop of love. Who knows, maybe plate garnishes are what your meals have been missing all along.
Sources:
Vitamin C Benefits, Sources, Supplements, & More
6 Health Benefits of Vitamin A, Backed by Science
Savor the Moment: The Peculiar Connection Between Taste and Memory