What is a Trivet?
By Fable Staff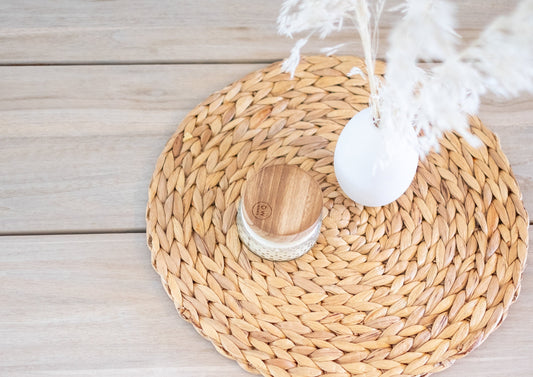 The trivet is an essential kitchen item, but so many people don't know what it is or what it's for. But if, at the moment, you're using a potholder or a tea towel instead of a trivet, you're doing yourself a disservice. The next time you see one, it is most definitely worthwhile to purchase a trivet.
This handy little object makes all the difference when you are rushing to get ready for your guests. There is nothing worse than taking a hot pan out of the oven and accidentally setting it on your countertop, only to find that you've damaged your beautiful kitchen. Having a trivet on hand is a great way to prevent this silly misstep and allows you to focus on things more important to you—that is, your guests that are soon arriving.
Maybe you're subconsciously already making use of another kitchen object to function as a trivet, or maybe you are still taking risks and setting hot pans on your countertop, crossing your fingers that nothing bad happens (and maybe you should stop doing this). Either way, here's everything that you need to know about trivets.
What Is a Trivet?
A trivet is a small item that acts as a barrier between your dish and your table. It is not a large platform for your dish to sit upon; rather, it is a thin object that protects your table without cluttering it. You would most likely recognize a trivet if you saw one; you may have just not known its name. You might even have one sitting in the back of a drawer in your kitchen.
A trivet is kind of like a mix between a coaster and a potholder. You set hot or wet items on it in order to prevent watermarks, much like you would with a coaster, but you also get some protection from the heat, thanks to the materials that some trivets are made of. Above all, the point of a trivet is to provide protection from various elements that may damage your countertop or dining room table.
A trivet can be made out of various materials, including wood, felt, cork, silicone, and metal. You may even find trivets made from fabric on occasion—after all, we've all used a tea towel instead at one point in time.
Why You Should Use a Trivet
Using a trivet is in the best interests of both you and whatever surface you're putting your dish on. It prevents your countertops from suffering from any heat or water damage. A trivet acts as a conductor by absorbing the heat from a dish while ensuring that it does not penetrate the table or surface it is sitting on at the time. Also, depending on what material the trivet is made from, it might help keep your dish warmer for longer, which is an amazing benefit if you're serving food family-style and expect people to be going back for seconds.
A trivet is also used for aesthetic purposes, which means that it's the ideal balance between practicality and aesthetics. It is the perfect addition to your dining room table, whether at breakfast, lunch, or dinner, and you can choose a trivet that will match with the rest of your decor. You can even have multiple trivets on hand, in case you're planning on having different vibes for different means. For example, the trivet that you use every day might be different than the one you pull out for holidays.
Traditional Ways to Use a Trivet
Traditionally, a trivet is used underneath an item that is fresh out of the oven or off the stove.
Underneath Fresh-Baked Goods
Placing a trivet underneath baked goods is a classic way to use a trivet. When you pull a piping hot pie or homemade cake out of the oven, popping it on a trivet is the perfect way to protect your countertop without having to pull the item out of the pan too soon. It is also great if you have been warming a baked good in the oven (like a warm apple crisp, perhaps?) and want to place it right onto your table rather than the countertop.
Removing heat marks is close to impossible when it comes to your beautiful wooden dining room table. When you use a trivet, you'll never have to worry about those marks as they will not appear in the first place.
On Your Dinner Table
You can even use a trivet on your dining room table for items other than pots that come off of your stove and pans that come out of your oven. If you're in the habit of warming your plates or bowls before sitting down to enjoy a meal, try placing them on trivets to ensure that you keep your furniture safe. Sure, you could use a placemat for this, but if you want to spice it up a bit, a trivet is a great option.
By using numerous trivets on your dinner table, you can create cohesion and a sense of unity in your decor. Since trivets are also often made from wood or metal, they do a phenomenal job of making your table feel more warm and cozy.
As a Large Coaster
Another wonderful way to use a trivet is as a large coaster. Next time you bring a pitcher of water or a chilled beverage to your table, bring a trivet for it to sit upon as well. This way, you can protect your table from any potential water damage. Not only will a trivet catch any condensation that your glass produces (which is often the culprit of those pesky rings of water damage), but a trivet will also catch any dripping liquid that did not quite make it into your glass. This small kitchen item is also great at providing an extra layer of protection from any spills that might occur while you're hanging out, enjoying a meal.
When you're using a trivet as a coaster, it's also a great landing spot for the mug you're having your morning coffee in. You can even use it as a landing place for your stirring spoon when you're done with it. A trivet is an elegant and appealing way to enjoy your morning coffee in any location of your home without worry.
Non-Traditional Ways to Use a Trivet
Let's say you have a few trivets, but you don't always need to have all of them out on the table at the same time. Instead of letting that trivet take up valuable counter or drawer space, repurpose it as an element of decor in unexpected ways. Then, when you're having guests over and need your trivet for its practical value once again, take it back to the table.
Using a trivet as a dining room decorating idea is likely something that you never knew you needed. By using a trivet in these non-traditional ways, you can impress your guests by showing just how versatile and creative you are.
For Your Succulents
A fun, less traditional way to use a trivet is as a base for your succulents, household plants, or floral arrangements. You can even try to match decorative items like spring tulips or autumnal pumpkins to your trivet for maximum visual impact.
The great part about trivets is how many different options there are. A fun way to step up your plant-nurturing game is to use a different trivet for every season. You could also change them out more frequently or whenever you are looking for a visual change.
Using a trivet for this purpose is a take on a traditional way of using the kitchen item, as it protects your countertops from any moisture that your plant may release, which could damage your table.
It also protects surfaces from being scratched by the pot that your plants sit in. While these scratches may not always be visible, they do occur and cause damage to your table. These scratches add up over time and together become much more visible and draw attention to themselves. Nobody wants to look at how scratched up your table is, so using a trivet is a great place to start when it comes to setting your plants down on different surfaces.
As a Part of Your Centerpiece
Another great way to take advantage of this decor item in other parts of your house is to use it as a base for your table centerpiece. Place it under a vase or a piece of art for a more cohesive look.
You can even use a trivet as a base underneath the candles that sit on your table.Whether you are using candles on candlesticks, or little tea lights, a trivet prevents any wax from spilling and damaging your table, which can happen at any time—and especially when you blow the candles out after a long night. A trivet can even help protect from any spillage that may occur from blowing out the candles on your birthday cake!
Trivets Can Take Your Kitchen to the Next Level
There are both traditional and non-traditional ways to use trivets. Since both are practical and aesthetically pleasing, you truly can't go wrong when using this household item.
It's time to stop using your tea towel or your potholder every time you need to set something hot down. This little item is bound to fit nicely in one of your kitchen drawers, and it will help you be more efficient in the kitchen.
Another extremely fun quality about trivets is that they allow for lots of design opportunities. If you have a fairly basic or neutral kitchen, trivets can add a much-need pop of color or texture that will only improve the look of the room. Just make sure to tuck it away whenever it's not in use, so you don't fall victim to the dreaded counter clutter!
Sources
How To Remove Heat Marks From Wood | 4 Removal Techniques | Wood Furniture Store
How to Repair Water Damage on a Coffee Table | Home Guides
33 Dining Room Decorating Ideas | Dining Room Design Inspiration | HGTV