How Your Plates Impact the Environment
By Fable Staff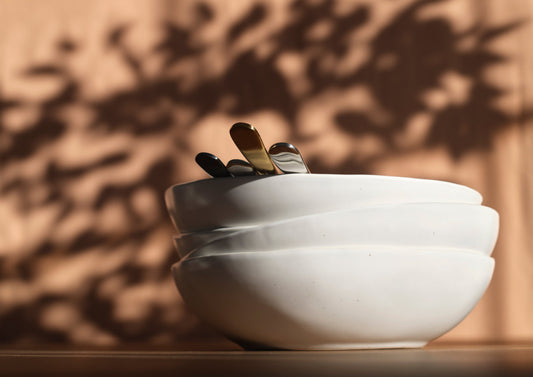 Every item you purchase has the potential to positively or negatively affect our environment. At Fable, we strive to bring high-quality products as well as sustainability to the dinner table. 
There are several ways your plates can be impacting the environment. From the way your plates are made, how they are distributed, and the packaging they come in, there are environmental implications when it comes to your dinnerware. 
At Fable, we strive for our products to have a long "shelf life", and we want our planet to be around even longer. Let's go over how plates can impact the environment, and how Fable has found innovative ways to help. 
Dinnerware and the Environment
First, let's take the paper plate as an example. This choice of dinnerware may lead to easy cleanup, but it isn't the most sustainable option. 
There are many unsustainable forestry practices when it comes to the paper business. They can destroy ecosystems and even eliminate an entire generation of tree species in a given area, which can have a negative domino effect.
Meanwhile, reusable tableware has a substantially lower impact on the environment than paper products. While you don't use up water washing single-use plates, the amount of water used to actually make the paper plate is far more. Production facilities  can use an entire quart of water for just one plate. 
There are obvious implications on the environment if you're an avid paper plate user, but how else can the dishes in your home be affecting our planet? 
The way a plate and other dinnerware are manufactured can affect the environment as well. Here at Fable, we partner with makers who share our commitment to sustainable craft, responsible design, and ethical employment practices. 
Fable is also proudly carbon neutral, which means that our total carbon emissions are offset by funding an equivalent amount of carbon savings elsewhere in the world. 
Recyclable Packaging
One way Fable is sustainable is by using 100% recyclable packaging. Many dinnerware can be shipped in packaging full of plastic and harmful chemicals.
However, since paper is one of the most easily recycled materials in North America, we package Fable products in it. However, unlike some other manufactures, we only partner with FSC-Certified Forests. Forests with this certification ensure that products come from responsibly managed forests that provide environmental, social, and economic benefits. 
What Is FSC?
Forest Stewardship Council (FSC) is a globally recognized certification system. FSC is voluntary and allows the forests to be audited against the principles and criteria of the certification.
These principles include, but are not limited to: 
Maintaining or enhancing the long-term economic, social, and environmental benefits from the forest.
Maintaining or restoring the ecosystem, its biodiversity, resources, and landscapes.
Maintenance of high conservation value forests. The company will maintain or enhance the traits of these high conservation forests.
Therefore, an FCS forest is managed sustainably and ensures the traceability of products from the forests all the way to the point of sale. 
Products that come from responsibly harvested forests are labeled with the FSC logo, which is considered the "gold standard" of forest certification by major environmental groups.
At Fable, we hope you will consider recycling the boxes and packaging your products come in to help lessen the environmental impact. 
How To Recycle Packaging
Fable is not interested in adding to landfills. Hence, our 100% recyclable packaging is plastic-free, and the dyes on our boxes are also non-petroleum. 
To recycle our packaging, all you need to do is flatten the boxes and packing paper, then place them in your recycling bins. The sustainable bio-film that protects your products during shipping is made from potato starch and maize starch—ingenious, no? Since it is composed of renewable raw resources, it is fully compostable and 100% biodegradable.
Recycling helps Fable get one step closer toward our zero-waste goal, and we are always looking for innovative ways to help.
Our Ceramics
Fable strives to balance profit with purpose. We have achieved the designation of Certified B Corp: Pending, and and are proud to be part of this group of companies dedicated to using business for good. B Corporations meet the highest standards of verified social and environmental performance, public transparency, and legal accountability.
We also partner only with companies that put the earth first. Our ceramic dinnerware and stainless steel flatware partnersare already certified by SMETA (Sedex Members Ethical Trade Audit), which  assesses a worksite to ensure it meets the organization's labor standards, health and safety, environment, and business ethics. Sedex believes organizations upholding these key standards are upholding responsible business practices and meeting social compliance.
Our partner companies are also  by SGS for ISO 9001 Quality Standards, which helps develop and improve companies in different areas, and assures that they demonstrate high levels of service quality by operating efficiently, meeting statutory and regulatory requirements, reaching new markets, and identifying and address risks. 
We believe in sustainable ceramics production, and we are cautious not to use up more natural resources than we need. Our ceramics are all crafted with non-toxic materials, and 100% of the water used is recovered and treated for re-use.
We are constantly striving to save energy, water, and raw materials and use them responsibly. In addition, our ceramics come from second chances: we use locally-sourced recycled ceramics, and clay from just a few miles up the road.
Eco Dining
Dinnerware production and distribution can negatively affect the environment, but some companies, like Fable, offer eco-friendly products.
Fable holds a number of certifications to ensure everything from the forests our packages come from to the creation of our ceramics is done in the best way possible and held to the highest standards. 
Reusable tableware that stands the test of time, like Fable stoneware, has a significantly lower impact on the environment than other products. Our ceramics are made with recycled water, and we ensure that our partner companies reuse materials whenever possible. Our packaging is 100% recyclable because we do not want to contribute to landfills. We also make sure our dyes on our boxes are also non-petroleum.     
Fable believes in going the extra mile to ensure our high-quality products have minimum impact on our environment. 
Sources:
Related Environmental Effect of Paper Plates | Sciencing 
What's Better for the Environment, Disposable or Reusable? | Sierra Club
Certification | Forest Eco Certification