Meet the Artists Behind Fable Greeting Cards
By Kate-Lynn Merkowsky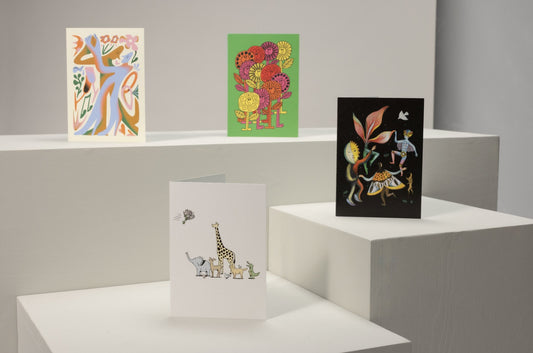 Essential to any great gift? A greeting card with a heartfelt message—and bonus points if it doubles as artwork for their home. We worked with four talented artists to bring you just that: a new collection of Fable greeting cards, each featuring original artwork fit for any wall, fridge, or mantelpiece (plus space to type a custom message inside). Here's an introduction to the artists behind the collection.
Mariah Barnaby-Norris
Ever since she received a drawing tablet from her first boss (shout-out to Bryan), Mariah Barnaby-Norris has been working hard to incorporate illustration into everything she does.
A Canadian illustrator and designer currently living and working in Portland, she aims to infuse her work with as much life and personality as possible—as evident in the original illustration on her Fable greeting card.
"I remember as a kid, drawing wonky princesses with heads that were far too big, and somehow I've managed to continue drawing lanky weird characters and people actually enjoy them," she reflects.
While she's honed her practice to build an impressive body of "imperfect and dramatic" illustrations, her style is always shifting out of a curiosity for new techniques. "I think I can safely say I enjoy drawing exaggerated characters and environments that fit together and grow off each other in interesting ways."
"I try to bring some human element to most things I draw," she writes. "I think once I realized not everything has to look perfect or realistic, that really opened things up for me and gave me lots of freedom."
This year, she's looking forward to exploring Portland more, laughing with friends, dinner parties, dogs, and hopefully lots of drawing for fun.
See more of Mariah's work here.
John Larigakis
Vancouver-based illustrator, art director, and creative director John Larigakis has a knack for creating work where unique and charming characters take center stage (fun fact: he's the creative force behind Fable's dove logo).
"I like coming up with unusual metaphors and visual connections that take a moment for the viewer to piece together," he writes. "My inspiration comes from watching a lot of '90s cartoons as a kid, and also traditional artwork that has a hand-crafted quality. I'm a big fan of the clean lines in Japanese woodblock prints."
John's wide-ranging roster of work includes an ongoing series where he comes up with unusual, literal interpretations of common phrases. "I also like to showcase bigger messages through clever juxtapositions, like the Plastic Wave illustration I did to raise awareness of plastic pollution."
The two things he's most looking forward to this year? Beyond the excitement that comes with expecting a baby with his wife, he's also working to complete an animated short film.
See more of John's work here.
Andrea Wan
Beyond drawing inspiration from elements of the natural world—particularly the flora and fauna—Hong Kong-born and Vancouver-based artist Andrea Wan turns inwards for inspiration. Making art in a variety of styles and mediums, from ink on paper to murals and sculptures, her work often mirrors her own emotional landscape.
"I see my practice as a form of therapy. It's a way for me to seek a better understanding of myself in relation to the universe. Sometimes it's more about allowing myself to be a container of what needs to be channeled through at the moment."
Often depicting scenes from a story, her otherworldly illustrations tend to incorporate animals, plants, and figures that draw on themes of nature and mythology. "I like to capture narratives from the mind and psyche, and any images in my subconscious that try to make their way into the physical world."
Having recently relocated to Vancouver after a long stint in Berlin, her forecast for 2022 includes more studio time and more dancing—at the same time, we hope.
See more of Andrea's work here.
Adam Higton
Adam Higton is an artist, illustrator, and musician based in York, a walled city in the North of England, where he lives with his wife, two children, and dog. His practice combines collage, drawing, carpet making, and electronic music (made under the pseudonym Cosmic Neighbourhood), and he also teaches print part-time at Bradford School of Art.
"My practice is based on a fictitious, mythical suburb called the Cosmic Neighbourhood, a place where trees talk and leaves dance. The collages and drawings I make document the things that go on there."
With playful characters and rudimentary forms in a handful of select colors, Adam's illustrations feel at once nostalgic and distinctive, calling to mind Peanuts and other familiar references, but with a sort of psychedelic twist.
"I enjoy seeing an idea grow; it always starts as a quick line drawing in my sketchbook, then it might turn into a collage, a carpet, or a cape. I love working with sound—I am trying to turn all of my collages into songs."
Drawing inspiration from everything from nature to books and music to postage stamps (which he began collecting during lockdown), he's also authored a children's book titled Who Am I?, published by Nieves Books.
Looking ahead, Adam has many exciting projects up his sleeve, one of which is a clothing collection that's set to be released this coming fall. "That's all I can say at the moment!"
See more of Adam's work here.
Discover the Fable greeting cards collection here.

* Interviews have been condensed.