Bud Vase Arrangements with La Bomba Floristry
By Natalie Gitt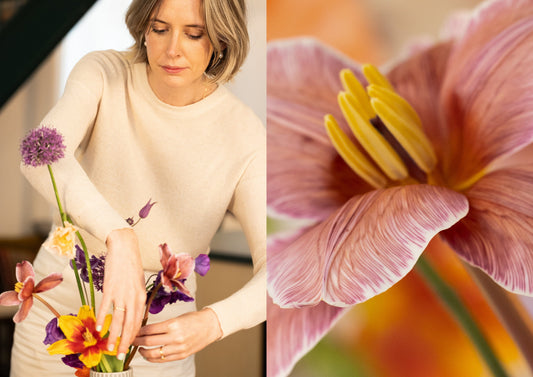 Floral design is a form of art. This rings especially true for Marta Sanderson, the owner and creative director of Vancouver-based La Bomba Floristry, whose unique, otherworldly arrangements are among the more breathtaking we've seen. For the launch of The Tall Bud Vase and The Short Bud Vase, we enlisted Marta's help to teach the art of curating beautiful, flower-forward arrangements in each vase. Watch the how-to, and read our interview with Marta below.
Tell us a bit about yourself and what you do.
Hello, I'm Marta Sanderson, owner and creative director of La Bomba Floristry. For a long time it's just been a solo operation as a florist and prop stylist in the event, wedding and editorial/ commercial space. Now, we're about to open a retail space in Chinatown.
 What made you want to pursue floristry, and how did you break into the industry?
I've always been a creative type. Originally finding myself in a non-creative career in production for music videos, fashion films, TV commercials, and branded content, I was surrounded by people living out their creative passion and I just needed to find my medium.
I've always been drawn to plants and florals for their beauty and calming nature. When floristry had a renaissance about 15 years ago, it brought to my attention that this could be an actual career. I dove into books, tried to get some first-hand experience interning with other florists, [and took] an ikebana class whilst traveling in Tokyo, which really kickstarted the full-blown career pursuit. I was obsessed.
I spent my spare time arranging what I could forage, and whilst still working in production here in Vancouver I started La Bomba—a side hustle [where I was] freelancing on weekend weddings during the summer. This taught me the technique I needed to be able to break the rules and form my own floral style. 
 How would you describe La Bomba's style?
Beauty at its core. You'll always find something unusual and unique about its composition or palette. Often a surprise you weren't expecting. 
Where do you draw inspiration from? How do you stay creative?
Can browsing the internet be a hobby? I'm such a visual person, I just take in everything around me. Spring and summer here in Vancouver are a huge inspiration to me. When I walk past people's front gardens, I often see a color pairing that excites me. Art galleries and clothing stores are other great ways to see exciting color combinations, and a good way to stay relevant with what is going on in fashion and interior design. 
 I most definitely move with the seasons, but you won't find me picking the obvious flowers—it'll be its weird cousin with a bit of flair. It's the way I dress myself, and it's the way I design with flowers. Always a bit different. 
What are some key elements you feel are essential to the best floral arrangements?
You really have to think about the viewer in the space. Where are they standing or sitting to view what you are making? What is the feeling in the room you want to evoke? I like to play with intrigue and the unexpected. Two arrangements side by side should never be the exact same. Nature doesn't work like that. Look at the rose bushes in the summer—how gloriously differently they all chase the sun.  
How would you style The Short Bud Vase?
The Short Bud Vase is excellent for a single type of flower en masse. Dot them all around your house and have little color moments as you move around paired with the rest of your interiors.  
What kinds of arrangements would you say The Tall Bud Vase is best suited to?
The Tall Bud Vase is great for either single type en masse, but can actually act as a pretty good vase for an arrangement with multiple types of flowers. It's a size that is very flexible and pairs nicely together as a cluster with The Short Bud Vase. 
What's the most rewarding aspect of the work you do?
It's all about the people. The emotions that are created from the viewing of the flowers. I myself have these reactions to flowers, but to get first-hand feedback from clients has to be the most rewarding part. I love being part of the sentiment behind someone's big day or the gift of love, friendship, or sympathy. The flowers are the pinnacle material for this. 
Shop the Bud Vase Set.
*Interview has been lightly edited and condensed.