5 Ways To Refresh Your Home for Spring
By Natalie Gitt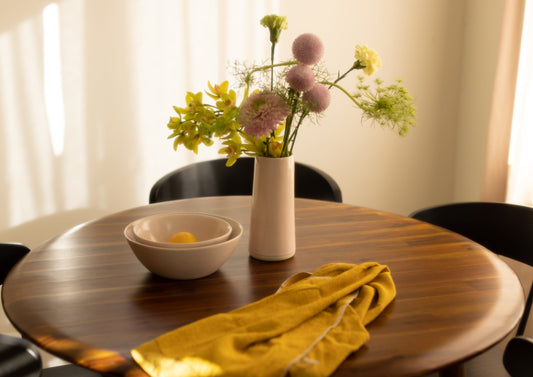 After months of cold weather, the season of renewal is finally here—and we're welcoming it into every part of the home with open arms. Refreshing your space for spring doesn't have to be complicated; a few simple tweaks make all the difference. From fresh flowers to new accent pieces, here's the how-to on rejuvenating your space to give it that much-needed spring lift.
1. Start with a clean slate.
We know, decorating and rearranging is the fun part—but first, a spring clean is essential. Beyond the actual cleaning part, spring cleaning also means taking stock of what you have and cleansing your home of things that no longer serve you (as Marie Kondo would say). Give those things away or donate them, and organize what's left to start fresh with a clean(er) slate.
2. Bring the outdoors in.
A simple way to breathe new life into your space? Fresh, seasonal flowers. Set a bouquet on the dining table, side board, kitchen counter, living room shelf—anywhere, really—and just like that, the room comes alive. Lean into crisp whites, bright yellows, and pale pastel hues for a pop of color that beautifully mirrors the change of seasons outside. (Pro tip: when it's not busy pouring your next round of sparkling water, iced coffee, or batch cocktails, The Carafe makes an excellent vase.)
3. Refresh the details.
Little upgrades make all the difference, and transforming the often-overlooked details is a great way to rejuvenate your space. Trade in an ordinary soap dish for a Little Bowl and replace toothbrush holders with The Cups to give your bathroom a subtle but elevated refresh. Set a few Little Bowls in the kitchen and bedroom to house jewelry and spices, and fill The Nested Serving Bowls with fresh, colorful fruit for the kitchen counter and dining table.
4. Embrace the colors of spring.
The best way to embrace spring? Call on the season's soft, pale hues to invigorate your home. From pillows and throws to napkins and ceramics, swap winter's darker tones with lighter, brighter shades for a fresh new feeling. Balance earthy Oatmeal textiles alongside vibrant greens and pastel ceramics from The Blush Pink Collection for a low-lift transformation that won't break the bank.
5. Refresh your tabletop.
Spring brings a whole new world of hosting potential. With winter's holiday gatherings behind us, give your tabletop a fresh look for Easter brunches, spring salads, and (fingers crossed) the first BBQ of the season. Pair
Speckled White dinnerware
with
Matte Gold flatware
for a classic and elevated look, accent the table with Dove Gray serveware and
The Tablecloth in Gray
, or go all in with a full
Blush Pink Dinnerware Set
.
Start your spring transformation with
Dinnerware
,
Textiles
,
Glassware
,
Flatware
, and more.