Egg White Pancakes as Easy as Sunday Morning
By Joe Parenteau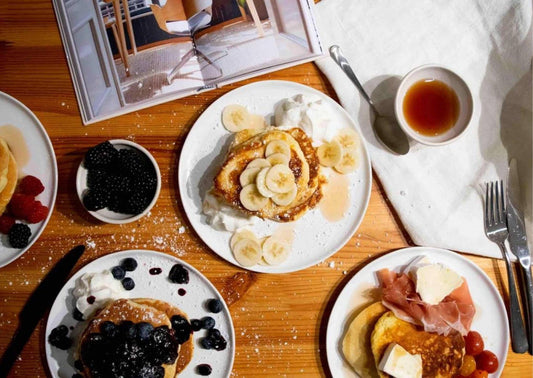 Our favorite way to wake up? With the scent of pancakes wafting through the apartment on a Sunday morning...
While it's often the sticky maple syrup or fresh berries that steal the spotlight, we think the perfect Sunday breakfast starts with a pancake. An unbeatable pancake. It's the foundation that fuels your day and needs the attention afforded to your glamorous topping counterparts.
Like a nice Sunday morning, this recipe is easy.
Fluffy on the inside and melt-in-your-mouth delicious, this pancake recipe will have you forgot the box of pancake mix again. Throw on your favorite pair of slippers, press play on the latest Spotify Weekend Chill playlist, and start your morning off right.

Ingredients
3 large eggs
½ cup all-purpose flour
1 ¼ tsp baking powder
Pinch of salt
½ tsp vanilla extract
½ cup buttermilk
1 tsp agave (or honey, or maple syrup)
Pinch of cinnamon (optional, if you feel like spicing things up)
Directions
1. Heat a large, non-stick pan over medium heat.
2. Separate the eggs. Whites in one medium bowl, and yolks in another (bigger) bowl. You'll eventually use both parts.
3. In a third bowl, combine flour, baking powder, cinnamon, and salt.
4. Add buttermilk, vanilla, and agave to the bowl with the egg yolks. Whisk until blended.
5. Slowly add your dry ingredients into the egg yolk mixture and mix just until combined.
6. Using a mixer, whip the egg whites until they reach stiff peaks. The whites should be smooth, shiny, and moist, and the tips can stand straight up on the beaters. Gently fold the egg white mixture into your batter, careful not to overwork and knock the air out. This is the key to fluffy pancakes.
7. Scoop ¼ cup of batter into your heated pan and allow for the bottom to brown. When you see bubbles rising on your pancakes you'll know it's time to flip. Turn them over and allow the other side to turn golden brown and delicious.
8. Serve with your favorite toppings; great options include whipped cream, seasonal fruits, lemon & sugar, or even a poached egg with brie for a more savory approach.
Note
This recipe can be modified to suit a variety of diets.
For a gluten-free alternative, we suggest using chickpea flour. Plus it's a great added source of protein.
If you're looking for a vegan option, aquafaba (chickpea liquid) is a perfect substitute for egg whites, and any non-dairy alternative can be used in place of buttermilk. To replace the liquid provided by the egg yolk, use half of a mashed banana or a ¼ cup of vegetable oil.
Whether you enjoy the savory ham and cheese option or the classic butter and syrup, any topping will shine when accompanied by our unbeatable pancakes.
What's your favorite pancake topping?
Tag us in your breakfast photos (#dinewithfable) and comment on your topping of choice. Happy Sunday!