Changing Seasons, Changing Table
By Max Tims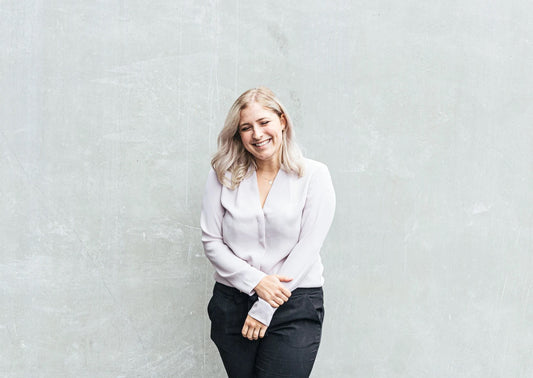 As the season changes from fall to winter, the last of the leaves fall away from the trees, the rain starts to pick up, and the summer clothes get packed into storage. Too often we let these months slip us by in a cold and gray haze. But, it doesn't have to be this way.
We talked to Becky Brauer, co-founder and co-CEO at Fresh Prep for some tips on how to love this time of year. She talks to us about why this crisp time of year is her favorite, and how she uses the changing seasons inside and outside of her kitchen. So turn your oven on, roast some squash, and snuggle into a warm sweater.
"Nothing beats the feeling of being warm and inside on a cold day."


For Becky, falling for fall is easy. She would know - it's her favorite season, and not only because it's finally sweater weather. For Becky, elements of warmth and welcoming carry across her cooking, her candlelit tablescapes, and even her home decor.
Tell us about your favorite fall dishes to cook.


"Soup, if I'm being basic and boring," Becky says with a smile. But not just any soup- shes talking about a family heritage split pea and ham soup. "Liquid Gold."Or so we are told!
For Becky, this is fall in a bowl. Onion and celery sauteed in a big pot with a couple of pats of butter until lightly colored. Throw in a bit of minced garlic, beautiful dried split peas, and homemade stock. Finally, add a smoked ham hock in with a couple of bay leaves, and let it simmer for an hour. This, for Becky, is the definition of fall, and it's easy to see why. There's nothing better than a home filled with the smell of slow-cooked food on a cool fall day... Except for maybe the family the beautiful pot of soup will bring together!
Does your table change as the seasons change?


"Definitely - I add a lot of candles. Lots of soft lighting to my table setting." Becky loves to fill her home with the warm and inviting glow of candlelight. Nothing beats a candlelit dinner, and we couldn't agree more. We like to mix in a few tall candles with smaller tea lights to bring some depth to the light.
Pro tip - make sure your tealights are in a small jar or glass so that you don't accidentally light your wooden serving spoon on fire (true story). Risks aside, there are few better ways to set a mood than lighting a table with candles.
Setting a table without a full set of seasonal plates


Becky loves to mix up her fall season with different serving and side dishes - "keep your everyday plates the same throughout the year, but mix it up with different serving dishes." We love this tip. Frankly, most people (including us) don't have the room to stock 4 different styles of seasonal dishes. Instead, Becky has a simple and elegant solution. Keep your basic set of plates but collect some different side bowls, serving bowls and serving plates that you can mix and match into the seasons. Think a muted brown serving bowl in the fall for your braised kale or roasted squash, and blush pink serving plate for your summer Caprese salad. Becky repurposes some of these dishes in the "off-season" as stylish key-holders, or a plant holding accent.
How to change your home for the seasons


"What I normally do at the start of the season is big clean and a declutter. I take all my decorative pieces off the shelves."
Becky is a pro at curating her home for the seasons, and we absolutely love her method to prep your home for the new weather. We love her technique so much that we did it last weekend!
First, Becky completes a full clean of her home. Like a big one. All the accent bowls, vases, dishes, and decorative pieces come down. Shelves are wiped, everything that can goes into the dishwasher. She makes her home sparkle. Then, everything is laid out on a big kitchen table, including other accent dishes stored in cupboards or storage bins.
Now she really begins. Becky suggests finding a color palette that you want to surround yourself with for the upcoming season. Once you have your palette, pick and choose items that accent it. Then, restyle and rearrange your apartment. Pick new items on your shelves, and perhaps find a new dish for your keys or a different pot for the plant. This is also a great chance to declutter the items that no longer bring you joy.

Changing your home can bring new and fresh energy to your space, and get you set up to tackle life in the new season.
What does Fresh Prep have in store for the changing seasons?


Some of Becky's favorite recipes are coming in the next few weeks that capture the fall flavors. We can't wait for the turkey bolognese - served with a side of roasted brussels and focaccia. "Garlic, a ton of parm, how can you go wrong?" Indeed, this dish is spectacular.
Other fall flavors on the docket include turkey feta meatballs with tomato sauce and roasted zucchini. Or, another of our favorites, pork Bahn mi. It's outstanding. Pickled daikon and roasted carrot fries tie this classic dish together.
So while rain and snow may be in the forecast for the foreseeable future, this doesn't mean your kitchen needs to be dreary. Change your home this season, bring some candlelight in, and get that pot of split pea soup going.