Set the Scene: A Picture-Perfect Brunch Table
By Natalie Gitt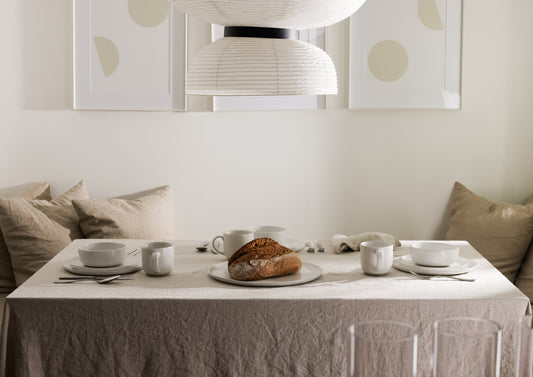 We know, it's been a while. After what feels like a long hiatus from hosting, setting a beautiful brunch table (or any table, for that matter) for your guests may feel daunting—but we're here to help. If you have brunch plans on the horizon and want to set the perfect scene for runny yolks and clinking glasses, we've got you covered—right down to cutlery placement.
1. First thing's first: dress your table.
The first rule of any well-set table? Don't skip the tablecloth. It's a detail that can transform the setting from standard to stunning, and trust us, it won't go unnoticed. Choose one that suits your aesthetic, like the Tablecloth in Oatmeal or Gray linen. Both earthy, neutral hues are versatile enough to serve as a beautiful backdrop for any spread, no matter what's on the menu. With linen, wrinkled keeps things casual while ironed feels more formal. Either way, it's a look.
2. Set the scene with stoneware.
We may be biased, but when it comes to plates, stoneware reigns supreme. With its weighted feel and hand-finished appeal, it gives the table a down to earth character that other materials (porcelain, we're looking at you) could never. Neutrals like Speckled White and Dove Gray are adaptable to any table setting, and both colors pair beautifully with the Tablecloth in Oatmeal or Gray. Oh, and don't forget the Mugs—after all, mimosas don't cancel out the need for coffee.
3. Next up: flatware.
If taking a more casual approach, a simple fork and knife duo will suffice—but if you'd rather go all out, include a salad fork and small spoon at each table setting. Place the larger fork on the left side of the dinner plate, and the salad fork to the left of that. The knife goes on the right side of the plate, and the little spoon sits horizontally above the plate (fancy, we know). We love the Polished Silver Flatware Set for more casual settings, and Matte Black or Matte Gold for dressier affairs.
4. Napkins? Necessary.
What will your guests use to protect their laps from falling droplets of hollandaise and maple syrup? The Napkins, of course. For a cohesive look, choose the same color as the Tablecloth—or mix and match Oatmeal and Gray to add depth to your table setting. As for placement, fold the napkins and set one on each plate (add napkin rings, if that's your thing), or iron and place beneath the cutlery.
5. Add a pop of color.
The textile and tableware recommendations we've given so far are geared towards setting a neutral, natural setting to really make your brunch spread pop. That being said, if you're craving more color, serve the table with the Serving Bowl and Serving Platter in Blush Pink or Midnight Blue. Each color pairs beautifully with Dove Gray, Speckled White, and our pure linen textiles, too.
6. Finishing touches.
This is the part where you get to infuse a bit of personality to the tabletop, however that may look. Fresh or dried flowers? A few sculptural vases? Name cards, if you're feeling fancy—and of course, the food itself. And there you have it—brunch is served.