Culinary Roots
By KATIE NANTON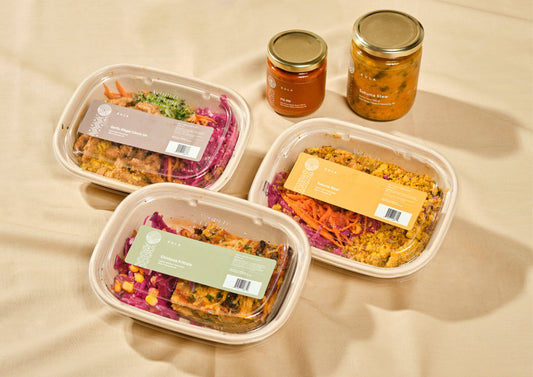 Behind every business is a story, and behind every culinary business is a delicious tale, indeed. To honor Black History Month, we're shining a spotlight on the stories of four black-owned businesses across Canada that we love, and we think you will too. 
Here at Fable, it's no secret that we adore tasty food and admire entrepreneurs—we're a start-up, after all! We're intentional about purchasing from locally-owned, independent companies whenever we can, and you may well be the same. Read on to learn about four talented tastemakers to support all year long: KA SPACE Café in Toronto, Ont.; Kula Foods in Vancouver, B.C.; Hill's Jamaican Jerk Sauce in Halifax, N.S.; and House of Boateng in Victoria, B.C.
Toronto, Ont.
Toronto-based Canadian-Jamaican designer Kevin Allwood is a man of many talents. Originally from Kingston, Jamaica, the entrepreneur has built up a career in fashion and photography that includes a luxury vegan fashion label, a magazine, and the healthy-delicious KA SPACE Café in Leslieville. Open since 2019, the vegetarian café showcases ethically-made fashion, art, and food in a space that exudes good vibes. The gathering place and take-out spot serves up inventive dishes like Ackee & Salted Tofu, Plant-Based Oxtail made from eggplant, and Vegan Saltfish made from palm hearts. Whenever possible, Allwood incorporates Jamaican scotch bonnet peppers into the recipes. "It is, in my opinion, one of the best-kept secrets for health, happiness, and longevity," he says. 
Proud of his Jamaican roots, which clearly inform his cuisine, Allwood notes how he didn't always feel this way. "When I was younger, seeing all the negative news and stereotypes about my country of origin, I was not proud to be Jamaican. But, time passed and I became more self aware. My love of all the aspects of Jamaica grew in proportion," he explains. "The funny thing is that I am so influenced by the culture that at times I feel like a Jamaican grandmother that just wishes to feed everyone, without even considering the exchange of money for food." 
Allwood on how his culture and background inform his business:
"The Jamaican culture is a constant source of fascination and inspiration, think about it; a country with little under three million citizens. Yet, it is known in every corner of the globe and has contributed in so many ways globally... And I am saying beyond the great Bob Marley. The Jamaican culture is one of hard work and perseverance, where you [make] do with what you have while striving for more. In some ways, it is a violent culture, so one is not easily shaken by the harder aspects of being in business. Jamaica is a culture of vibes, everything is vibe. The good, the bad, the ugly. Music vibes, food vibes, spices, and family. This is what KA SPACE is all about."
On how childhood memories about food informed his culinary path:
"The memory that stays with me—not in a negative—and helps to keep me aware of the first purpose; feeding folks. The lingering memory from childhood is not having enough to eat, ever! The memory of eating the parts of the chicken that had no flesh, or having items that would be considered throw-away, such as chicken foot soup. But there are also memories of climbing trees and picking mangoes, gorging myself until unable to move… This, mixed with the love of aunties, made me wish to create a space that would be first about love, and second food."
Vancouver, B.C. 
Kula Foods founder Asha Wheeldon's journey began in Kenya, where the idea of sharing food is an important part of everyday community life. After migrating to Toronto, at age 11, Wheeldon was introduced to West African, Caribbean, and middle Eastern cuisine and culture; when she eventually headed west to Vancouver, she felt driven to launch a culinary endeavor of her own. "I was inspired to create something unique that is reflective of my experiences by connecting people to their food and community," she says. With that, Kula Foods was born. 
Today, Wheeldon and her team turn out Afrocentric vegan favorites like Pili Pili Sauce, Mandazi (cardamom Swahili mini-donuts), and Sakuma Stew, a signature red lentil and collard green stew that is inspired by the flavors of East Africa. All Kula's items are available for pick-up or delivery, and Wheeldon collaborates with other local producers by featuring their plant-based products on the Kula site.
Wheeldon on how her Kenyan heritage inspires her business: 
"That is part of the identity and inspiration of our brand. It is all about community, kindness, and how we connect to each other, soil, and all living beings."
On how childhood memories informed her culinary path:
"I often remember harvesting food with my family. It was a very joyous childhood memory. I remember often preparing grains in large mortar that would later be used for preparing ugali and chapati, which are still some of my favorite staples."
On the origin of the name, "Kula": 
"Kula means 'eat' in Kiswahili. It came to me as I was thinking of my grandfather, who I was close to; his third and my fifth family name is Kule. One day, as I was thinking about our family's names of our ancestors, Kula popped into my mind and it all connected for me."
Halifax, N.S. 
For Paul Hill, president and sole proprietor of Hill's Jamaican Jerk Sauce, moving from his hometown of Montego Bay to Halifax in 1994 brought more than a little extra wind chill—it brought a lack of delicious jerk sauces. 
So Hill, who has always loved cooking, started making batches of sauce from his home kitchen for himself, friends, and family. "As appreciation for the product grew, so did my aspirations to expand," says Hill, who steadily grew his collection of offerings. Today, he sells seven different varieties of Jamaican Jerk Sauce, Hickory Jerk BBQ Sauce, and Wing Sauce (with varying levels of heat) out of stores across Atlantic Canada and, thankfully, online as well. 
Hill on how his upbringing influenced his business:
"In Jamaica cooking is part of our culture... I missed the food from Jamaica when I first moved to Nova Scotia, so I started making my own jerk sauce to make me feel somewhat at home. My friends encouraged me to start selling my sauce, [but] it wasn't until we went to Jamaica and I came across some pimento, brought it home, and tried it in my recipe that I thought of actually starting my business."
On growing his business, step-by-step: 
"The business was established in 2016 as a small, home-based business... Six months later I introduced the Jerk Sauce line into Pete's Fine Foods. As sales increased, I expanded into Sobeys, and business has been great! As my production needs grew, I needed to start manufacturing on a larger scale; however, finding a local manufacturing facility was very challenging. I quickly recognized a need for this service in Nova Scotia, and decided to pursue opening my own commercial kitchen facility to fill this gap. My doors opened in December 2018, with the intention of helping other local entrepreneurs in similar situations by providing co-packaging services."
Victoria, B.C.
Born in Ghana, Castro Boateng moved with his family to Toronto when he was 9 years old. As a youngster, he dreamt of becoming a basketball player, a coach, or a business owner—but never considered a career as a chef. After taking a dishwasher job in high school, Boateng was intrigued by the hard work ethic and lifestyle of the cooks on staff. So, he completed the cooking apprenticeship program at Humber College, worked for a few years, then took off to travel the world—cooking at incredible restaurants and resorts along the way. 
Boateng eventually settled in Victoria, BC, founded a catering business with his wife, Charlotte, then opened House of Boateng Café in August 2018. "House of Boateng celebrates the flavors of West Africa, the Caribbean, and Pacific Northwest Cuisine," explains Boateng, who sees his restaurant's purpose as a place to gather with friends over great cuisine. "In Africa," he adds, "every celebration is centered around food and music."
Boateng on his global culinary training:
"I moved to Scotland to work under European Master Chefs Stewart Cameron and Colin Watson at the prestigious Turnberry Resort, Scotland. This is when I knew I wanted to be a chef. After a few years in Scotland, I moved to the Fairmont Southampton Princess in Bermuda, then to Banff as Chef de Cuisine of Eden, the five-diamond restaurant at the Rimrock Resort Hotel where I met my wife, Charlotte. We moved to Vancouver Island, where I was the Executive Chef at the Aerie Resort. Two years later we started our catering business. We never intended to open a restaurant, but after five years of organically growing our business, we made the decision to find a place in our community to expand."
On his favorite cooking ingredient right now:
"Plantain. It is very versatile. You can use it for breakfast, lunch, and even dinner. When it is green, we slice it very thin and fry it to make chips; when it is semi-sweet, you can boil it and use it as starch; and when it is very ripe, you can use it as a dessert."