Everything You Need to Know About Stoneware
By Fable Staff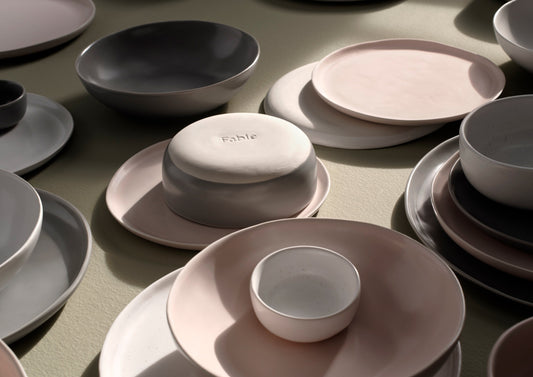 There are so many different types of dinnerware to pick from, but finding the perfect set can often feel like a challenge. Stoneware is an excellent option if you are looking to dine in style easily. Fable stoneware—that is, all our ceramic dinnerware offerings—features durable and timeless designs, so it lasts for years.
Stoneware is different from other options on the market, like earthenware or porcelain. It is best to know the variations in dinnerware so you can make the best decision. To help, we're going to go over the ins and outs of stoneware to help you find the right set for your home.
Stoneware Definition and History
In simple terms, stoneware is nonporous ceramic dinnerware made from clay.
Stoneware gets its name from its stone-like appearance. Before being glazed, stoneware can look similar to natural stone; if glaze is added, it can take on a colorful matte or glossy finish. At Fable, stoneware is glazed in differing semi-matte colors, and the bottoms of the ceramics are left unglazed for a signature natural aesthetic.
Stoneware can be vitrified or not, but either way, it is nonporous, meaning it will not absorb liquids. Stoneware is made from certain types of clays. The stoneware goes through a high firing temperature between 2,510 and 2,330ºF. It also has a slightly thicker design to help to make the stoneware durable.
Stoneware has been around for thousands of years. It traces back to China in 1400 BCE during the Shang Dynasty. In the 17th century, China began exporting its stoneware to Europe. It was a red to dark brown color that was unglazed but cut and polished.
After China began exporting stoneware, other countries, like Germany, England, and the Netherlands, started duplicating it.
Today stoneware is still a popular option for dinnerware. Fable's collections are thoughtfully designed, with colors and styles that enhance each other and fit seamlessly with the atmosphere of your home.
Types of Ceramics
There are so many different types of ceramics. To make things crystal clear, we are going to review the three main types of ceramics: stoneware, earthenware, and porcelain.
E
arthenware
Earthenware is made from clay that is fired at relatively low temperatures. The firing temperature is usually between 1,000 to 1,150 degrees. Since it is a low temperature, it is often brittle and is somewhat porous. These small holes allow air and liquid to pass through. Therefore, earthenware is not ideal for holding food or water. However, if adequately glazed, the earthenware can become waterproof.
Porcelain
Porcelain is made from refined clay that is fired at very high temperatures. The high temperature means that it is extremely hard, and the finished product looks shiny, is often white, and can look translucent.
Similar to stoneware, porcelain originated in China. The earliest piece of porcelain was made with kaolin clay, which is sometimes referred to as "primitive porcelain." There are differing opinions about the timing of its origin; some argue that this type of porcelain was created during the Shang Dynasty, but much clearer evidence places its creation more recently, during the Eastern Han Dynasty in 25 - 220 CE.
Stoneware
Stoneware comes from a different type of clay than earthenware or porcelain. As we mentioned, it is fired at a high temperature, making it a more durable material with a denser, stone-like quality.
The finished product is waterproof and, unlike earthenware, it does not need to be glazed.
The main difference between the three types of ceramics is the temperature at which the clay is fired. The temperature variations affect the strength, water resistance, and durability of the final product. The purity of the clay also affects the final results. Stoneware and porcelain are the more durable forms of ceramic.
How to Clean Stoneware
You can use your stoneware regularly, but proper care is essential to keep it looking its best for years to come. Here are a few care tips for your ceramics.
Tawashi Brush
Fable has a unique tool that will become a kitchen cleaning staple—especially if you have ceramics. It's called the Tawashi Brush, and it can work wonders on tough stains and marks. You can also use it on more than just your stoneware. It also works wonderfully when cleaning dirt off root vegetables. Always try to rinse, drain, and dry your brush after each use.
Dishwasher Safe
Fable products are all dishwasher, microwave, and oven-safe (up to 450ºF). Our semi-matte ceramics can get superficial marks on them from your flatware, but you can easily erase them with our Tawashi Brush.
When placing your ceramics in the dishwasher, consider giving them a little space to ensure they don't shift in the wash cycle and chip.
Preventing Stains
Since some stoneware is left unglazed—with Fable products, that includes the bottoms of our dinnerware stains can occur if left in contact with certain substances. To avoid staining, try to clean pieces quickly to prevent any long-term marks.
If you don't clean them off in a timely manner and you see stains, you can use a scouring powder or make a paste with lemon, water, and baking soda. Apply the powder or paste to your ceramics and use a scrubber for a few seconds over the area. Rinse them with soapy water, and your stoneware should appear good as new.
Stoneware Is Full of Surprises
Stoneware is a fantastic option if you are looking for dinnerware.
Not only has stoneware been around for thousands of years, it is fired at a high temperature making it durable and waterproof. Its stone-like appearance gives it a natural look, and you can keep your stoneware looking good as new with a few simple cleaning tips.
Fable products are dishwasher, microwave, and oven safe up to 450ºF. Our semi-matte ceramics can get superficial marks on them, but they can be easily removed with our Tawashi Brush.
Fable offers many different bundles and gives you the ability to select different colors for your set. Our stoneware is all organically shaped and one-of-a-kind. You can get multi-piece sets that include Dinner Plates, Salad Plates, Pasta Bowls, and Cereal Bowls, all crafted and hand-finished in Portugal.
Plus, when you purchase Fable products, you can feel good about your purchasing power giving back to the greater community. For each set sold, a meal is donated to a family in need through Fable's partnership with Mealshare.
Sources:
A Simple Test Determines the Best Ceramic Firing Temperature for a Clay Body | Ceramics Network
Chinese Porcelain The History of Chinese Porcelain | China Educational Tours