Serving Platter for One
By Natalie Gitt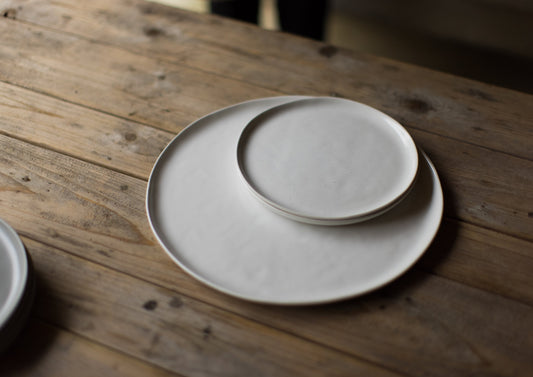 Every home needs a serving platter. Whether you live alone or have a large family, you can get a lot of use out of this piece.
There are countless ways to utilize a platter, from serving food, drinks, and desserts to using it for nonfood items, outside of a kitchen setting. It doesn't only have to be used to present large amounts of food and beverages. You can use a platter just for yourself.
If you're searching for the perfect platter, you've come to the right place. At Fable, we have The Serving Platter, which works for any occasion. It is also organically shaped, one-of-a-kind, and hand-finished in Portugal.
We are going to go over several different ways one person can use this platter and perhaps give you some new ideas.
What Is a Serving Platter?
If you really think about it, a serving platter is essentially a large dinner plate.
At Fable, our platter is 13.75 in. diameter and 1.38 in. height, which means it is several inches bigger than a typical dinner plate. Most platters are round in shape, like a dinner plate, but some can be more oval.
Most people use a platter as a tray for serving large quantities of food. Some people also use it for things like an entire cake.
Type of Platter Materials
Just like all dinnerware, platters come in a variety of different materials. There are platters made of gold and used ceremonially. Some are made of metal or copper, while many are porcelain, stoneware, or even plastic.
Porcelain

is traditionally made from white clay and is more delicate than other ceramics. It may be thin and light, but it is generally a durable product due to a very high firing temperature.
Plastic platters

are made from artificial materials and are the cheaper option. Watch out for

harmful chemicals

that may be in plastic dinnerware, though. You should also avoid microwaving plastic platters since the chemicals in the platter could seep into your food.
Stoneware

is made from a variety of clays and is thicker and heavier than porcelain. At Fable, our platters are hand-finished in the Tagus Valley region of Portugal with locally sourced and recycled clays that are fired twice to create everyday durability. (They are also microwave, dishwasher, and oven safe up to 450℉.)
Depending on the material you choose, the platter can be heavy or light. Fable's platters are 3.3 pounds each, while most porcelain platters are about 1-2.5 pounds.
Since there are so many options, you may want to do your research before making a final decision. You also may want to get more than one platter for your home. Think about how you will use it and what is going to fit the design of your home.
How To Use A Platter For One
While traditionally for serving multiple people, there are several ways just one person can use a platter.
Breakfast:

On a warm sunny morning, you may want to eat breakfast outside or on your porch. Simply place your

coffee mug

, muffin, and jam all on your platter and carry it out all at once. Or maybe you have a big breakfast with pancakes, eggs, and bacon. Usually, you may have all the elements of the meal on different plates, but with a platter, it can all fit on one dish.
Lunch:

When it comes to lunch—no surprise here—you can also use a platter. If you are having a sandwich and salad, both can easily fit on a platter. Or, if you're having

soup

and a sandwich, like a tomato soup and grilled cheese, you can place the bowl on the plate next to the sandwich. If you dip your sandwich in your soup, you won't have to worry about it dripping on your table because the platter will catch it.
Appetizer:

Perhaps one of the best uses for a platter is as a charcuterie plate, and the same holds true when you are dining solo. You can place a few different kinds of cheese, meats, and fruit on your platter for a perfect appetizer or light main course.
Dinner:

You can use a platter to space out your food for dinner if you are having a large meal made up of different components. Thanksgiving is an excellent time to consider using a platter instead of a dinner plate. You can easily space out your food instead of piling it on top of each other.
Creative Uses for a Platter
There are more ways you can use a platter than just eating off of it.
Here are some other ideas for using a platter:
Kitchen Tray:

You can use a platter for your cooking supplies that you like to keep out to make it look tidy. You can place your olive oils, salt, pepper, and other regularly used ingredients. It not only makes it look neat but also makes it easier to clean. Instead of having oil residue on the countertop, it is contained on the platter. You can simply put the platter in the dishwasher when it needs to be cleaned.
Drink Tray:

Similarly to the kitchen tray, you can use a platter as a bar cart of sorts on your countertop. Place a few bottles of what you regularly drink or ones that are interesting to look at on the platter. You can also include some of the tools you use to make cocktails.
Bathroom Skincare Tray:

You can use your platter outside of the kitchen. If you like to keep your skincare on your bathroom counter, consider placing it on a platter. You can arrange your moisturizers, serums, and cleansers appealingly on the platter for a cleaner presentation.
There are countless more ways you can use a platter so consider what will be beneficial for you.
One Plate, a Million Possibilities
You can take advantage of the many different uses of a platter in your home.
You can use a serving platter for every meal for one, including an appetizer, like charcuterie, or a family-style dinner.
Consider the different materials platters come in and what will work best for you. If you want something you can use in the microwave and the dishwasher, consider stoneware or porcelain.
At Fable, our platters are premium quality and can fit the aesthetic of any home.
Sources:
Chinese Porcelain, What is Porcelain, What is Porcelain Used For? | China Educational Tours
Toxic Chemicals In Plastic Tableware - Natural Health Blog | Jon Barron
12 thoughts on "7 Ways to Use a Serving Platter in Your Home" | Circle Square Oval