Serveware for All the Right Occasions
By Fable Staff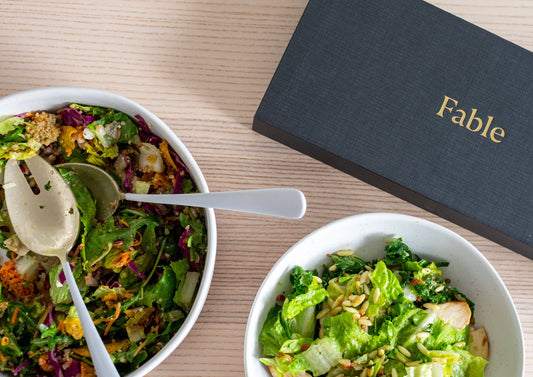 When it comes to comfortable everyday living or being the best host for a dinner party, having the right serveware is absolutely essential. 
Premium products can set you apart, and being prepared can give you an ease of mind. However, it can be hard to know exactly what you need in your kitchen. 
We are going to go over the basics of serveware and what you need for different occasions. With the help of Fable, you can start enjoying great food and good company with premium tableware, ASAP.
What is Serveware?
Serveware comes from the Latin word "servire," which means "to serve."
There are several different kinds of serveware, but essentially it includes items like bowls, cups, plates, platters, trays, and more. What is essential for each individual can differ. 
What you need depends on your family size, lifestyle, and entertainment needs. However, a safe bet for anyone is to choose serveware that's classic, practical, and versatile. Whether you're serving up an elaborate holiday dinner or a backyard barbecue, you'll have the right tableware for every event. 
Many people have mismatched pieces that they have inherited from family, or collected over the years. Of course, there is nothing wrong with an eclectic style, but consider investing in a quality dinnerware set if you desire a more cohesive look. (Trust us—one day you'll want a matching set.)
At Fable, we believe in the power of timeless designs, and that's why we responsibly design and craft our premium dinnerware to stand the test of time. You can enjoy your Fable stoneware for years without it looking out of place or going out of style. 
Fable offers several different bundles and dining essentials to meet your dinnerware needs. Within these bundles, you can even mix and match our products—for instance, you can pick up a set of Speckled White Salad Plates and a set of Midnight Blue Dinner Plates—to create a unique set that works for you. Our colorways are all specially chosen to complement the other hues in our collection, so everything can easily be mixed and matched. 
Basic Set of Serveware
There are a few basic essentials that everyone should consider having in their home when it comes to serveware. 
There is a lot of multi-purpose tableware that you can use on a regular basis and other pieces that are great for the occasional dinner party or informal gathering. 
Dinner Plates:

The

dinner plate

is perhaps one of the most essential pieces of serveware. If you have a set of dinner plates, you can build from there. 

A dinner plate is usually anywhere from 10 to 13 inches across. At Fable, our plates are 10 3/4 inches in diameter. 
Small Plates:

You also may want a

set of smaller plates

for when you have snacks or dessert. 

If you're hosting guests at your house, small plates are key if people will be wandering around with appetizers. A small plate that isn't paper elevates the gathering and can make guests feel spoiled. Our small plates are 8 3/4 inches in diameter. 
Small And Medium-Sized Bowls:

Owning small and medium-sized bowls are versatile and can be useful in everyday life. 

You can use the small bowls for desserts, soups, appetizers, and sauces. While the medium-sized bowls are great for pasta, rice dishes, and stews. When having a dinner party, these bowls also work well for holding sides, such as salads and dinner rolls.

Fable's

small bowls

are 6 inches in diameter and 2 inches in height, and our

medium-sized bowls

are 8 1/2 inches in diameter 2 1/4 inches in height. We even have a set of

tiny bowls

, which are great for an amuse-bouche, or adding a selection of help-yourself garnishes to the tabletop. 
Mugs:

Whether you prefer coffee, tea, or hot chocolate, a few quality mugs are great to own. 

Fable mugs

offer a moment of comfort and are naturally stylish. They are perfect for every morning or an after-dinner drink. 
Flatware:

No matter if you are single, or have a large family, having a flatware set is essential. 

Fable offers a

20-piece flatware set

made with premium 18/10 stainless steel. 
The Extras
Now that we've gone over some of the essentials, let's touch on a few extras to think about investing in.
Serving Platter:

A

good serving platter

is great for presenting and serving your food at a family-style dinner or party. 

They are versatile because you can use them to serve everything from a whole chicken to an entire cake. 
Serving Set:

A

serving set

is a large bowl and serving spoons. This set is helpful to own for serving salads or family-style meals. 
Entertaining 101
Once you have all the essential serveware for entertaining, you may want to have a party. 
We have a few tips and tricks to impress your guests. 
Appetizers: Everyone loves something to graze on at a dinner party before the main meal is served. 

An easy appetizer is to make a charcuterie spread on a Fable serving platter. You can pair cheeses with crackers, crusty bread, and grapes or olives. You can get creative by adding different nuts and jams for a simple crowd-pleaser. 
Flowers:

Flowers can be a simple way to elevate your decor and take your dinner table to the next level. 

You can make small

flower arrangements

for each table setting by using your Fable mugs as miniature vases. You will need to cut the flowers down, so the stems are the size of the mug for these unique arrangements. 

Flowers can show that you went the extra mile for your guests to make them feel special. The only thing that really matters is that you and your guests have a good time with great food. Fable would love to be a part of these special moments by providing premium serveware. 
The Perfect Serve 
Finding the right serveware for your every need is simple with Fable. 
Whether you are a part of a large family or live alone, there are a few essentials you should consider investing in. Owning dinner plates, small plates, small and medium-sized bowls, and mugs is a great start. These pieces are versatile to meet your needs.
Fable offers organically shaped and one-of-a-kind stoneware in simple dinner sets. Our designs are classic and durable so that you can use them for years. 
If you appreciate premium serveware consider Fable products to add quality pieces to your life. 
Sources:
Servio, Servis, Servire I, Servivi, Servitum | Latin Is Simple
Stoneware | Definition of Stoneware by Merriam-Webster
Entertaining 101: Easy Tips & Tricks to Impress | Yarn Scissors Silk