The Secret to Beautiful Salad Bowls
By Fable Staff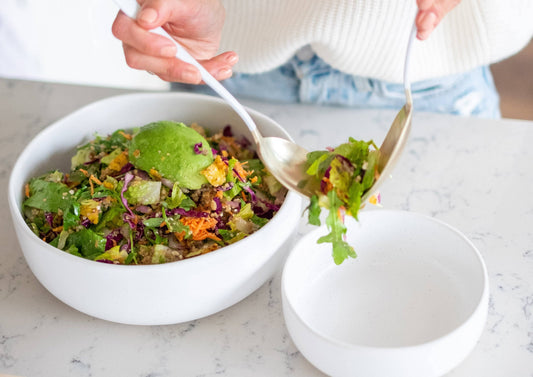 Making your salad bowl look like a masterpiece is a great way to up the overall look of your dinner table and really show off your presentation skills. Together we can handcraft exquisite meals that will satisfy your hunger and fulfill your creativity as you reap the countless benefits of salad. We love sharing stories over beautiful meals, and salad is a great place to start.
With summer just around the corner, salads on patios are something to look forward to as the weather gets warmer. We're here to help you prepare to make the best salad yet!
Start With the Base
Your salad success has to start with the right base. Depending on what you're serving, there are many options for the base of your masterpiece. Here are just a few of the greens that you could choose for the salad of your dreams.
Iceberg lettuce is one of the classics, and for good reason. It's a beautiful light green color that looks fresh and crisp. If you're looking for a tried-and-true combo, a beautiful salad to make with iceberg lettuce is a Cobb salad. You could even try a wedge salad, which gives you quite a lot of visual interest and is served on a plate rather than in a bowl.
If you're looking for slightly darker greens, arugula makes for a fun surprise in a salad. Arugula offers a fresh, slightly tart and peppery flavor, and it's often incorporated into pre-packaged spring mixes. It works well for pairing with other vegetables like mushrooms, too, so you have a lot of flexibility. A simple yet highly elegant salad is made with arugula, mushrooms, parmesan cheese, all topped with a lemon olive oil dressing.
There are many more options when it comes to your salad base, so it really comes down to your personal preference. From kale to spinach to romaine, there are tons of different lettuce varieties that you can use to make a salad your own. Who knows—maybe you'll even take a chance and mix a few varieties together. Go ahead, the world is your oyster (or your salad bowl, as the case may be).
Add Those Vegetables
When it comes to making your salad a true masterpiece, you really need to consider the toppings on your salad. While the base is essential, the other ingredients will take things to the next level.
Our biggest tip here is to try to incorporate as much color as possible—the more color, the more cohesive your salad is going to look. Plus, the more colorful veggies that you can incorporate into your salad, the more nutritious it'll be (probably!). Didn't we all learn back in the day that you want to add as much color to your plate as possible? Here are some key vegetables to brighten up your bowl.
For reds, try adding fresh tomatoes or crisp bell peppers. When it comes to orange, you have a lot of room to play with different shades and textures. Try out carrots, sweet potatoes, or bell peppers. If you're looking to score some sunny yellow tones, try roasting squash, corn, or golden beets on the barbecue or in the oven.
When it comes to green, try to pick green vegetables that are not too similar to your base color, or else they'll get lost. Some stand-outs are cucumber, broccoli, and snap peas, which can also add a pleasant crunch to your dish. Certain varieties of cabbage come in beautiful blue shades, and you can add in some fun purple tones with eggplant or certain kinds of asparagus.
Get Fresh With Fruits
While vegetables are important, they might not add that punch of flavor that you're looking for (unless you've prepped them in a specific way). To add even more interest to your salad masterpiece, include aesthetically pleasing fruits that also just so happen to please your taste buds.
Oranges are a great way to add a pop of color and a little bit of zing to your salad. We highly recommend adding these in the form of cubes—especially when your dressing incorporates lemon or lime juice—or as tiny, sweet mandarin orange slices. Apples are the perfect way to weave in some extra crunch, too, especially when they're in season. Put together a stunning fall harvest salad using a combination of red and green apples for both sweetness and a sour tang. When including apples, make sure you thinly slice them to give your salad an extra sophisticated look, like the true piece of art it is.
Another sweet way to incorporate fruit into your salad is by using dried fruit. Dried cranberries, cherries, blueberries, dates, and apricots are sure to add that extra flavor and color. Pair these super-sweet bites with a sharp or tangy cheese, and you'll have a flavor combination that will blow your mind.
Finish It With Nuts & Seeds
Sunflower seeds, pistachios, walnuts, pumpkin seeds, chia seeds, almonds, and peanuts are all great ways to make your salad a true work of art. They can also add some beautiful contrast up against all those fresh ingredients you've already got going on. To pack in extra flavor and add a touch of elegance, consider adding candied nuts—they'll give you just a little bit of shine and stand out in the best way.
Finding the Right Bowls
Believe it or not, making your salad bowl look like a masterpiece doesn't stop at the ingredients (although that's obviously a major part). You also have to find the perfect serving bowl, plus make sure that the bowls or plates that you'll be serving the salad in are a perfect match.
The Perfect Serving Bowl
Of course, we recommend our ceramic Serving Bowl to showcase your salad-making talent. Perfect for sharing with guests or even just showing yourself some extra love with a well-put-together meal, this bowl is highly versatile. A serving bowl is the first thing people will see as you bring the salad to the table and is a great way to set the stage for the absolute art that is your salad.
This stunning serving bowl was designed in Vancouver then crafted and hand-finished in Portugal—yes, this bowl is global. Its timeless, unique design is just enough to stand out on the table while also not taking away from any of the other gorgeous things that you have going on.
The best part? When the night is over, you don't have to worry about clean up. Just pop this durable bowl in the dishwasher, and head to bed.
Individual Bowls
One giant salad bowl isn't the only option you have when you're crafting your veggie sensation. While a large serving bowl can make an impact, there's just something so personal about serving your guests individually plated dinners.


When it comes to individual bowls for designing a salad, we recommend our Cereal Bowls. Dishwasher and oven safe up to 450°F, this set of four bowls is perfect for spreading the love, and you can use it for everything from salads to cereal—we don't judge (even if you are eating Cocoa Puffs at midnight).
On top of that, we know that stuff happens, especially when you're trying to carry four bowls into the dining room at all once. That's why it's so important to us that our products are long-lasting and durable. The Cereal Bowls are fired twice to create everyday durability, ensuring that these beautiful bowls can stay a forever friend to your salad nights.
Salad Plates
Salad Plates are a more formal way of serving salad to your guests—we're talking setting the table in advance, with these little showstoppers all stacked on top of your regular plates. Bonus: These salad plates are flat with a low rim, making them easily stackable for clean-up at the end of a long day or a long night.
While many people put salad on regular dinner plates, there are many advantages to separating the two. Perhaps most obviously, dinner is often served hot, whereas salad is served cold. If you're really trying to up the ante, serve your hot dinner on a warm plate, then serve the cold salad on its plate so the lettuce doesn't go soggy.
Other Serving Necessities
Making your salad bowl look like a masterpiece also requires aesthetically pleasing help from things other than bowls and plates. The serving utensils you choose to use and the flatware you provide your guests with also contribute to the overall experience—it's like an immersive art exhibit, but with veggies.
Choosing Serving Utensils
While those old mismatched serving utensils you have sitting in the back of your cutlery drawer will get the job done, they won't leave you with that 'wow' sensation. Our Serving Spoons are crafted from premium 18/10 stainless steel and come in a two-piece set. There are multiple options when it comes to colors, so you can really match your overall decor vibe.
Choosing Flatware
There's no other way to put it; the right flatware is the cherry on top of the salad (or maybe the dressing on top of the salad?), and with our stainless steel Flatware Set, you can offer your guests matching cutlery that perfectly complements the salad plates you have picked out.
These will stay rust and stain-free for many meals to come, and they're one of the final key elements to making your salad a total masterpiece.
Living Out Your Salad Dreams
Making your salad bowl look like a masterpiece is an easy thing to check off your summer bucket list with the help of Fable. Your dinner table is sure to look great, and when your food looks amazing, you're way more likely to eat all those nutritious fruits and veggies—it's a win-win.
It's not just about the food or the visual appeal of the bowl you eat your salad out of on your patio. It is equally as important to think about what goes into producing the bowl you are using—and with Fable, you're getting dishes that were created with both people and the planet in mind.
Sources
Health Benefits and Safe Handling of Salad Greens | Colorado State
8 Single-Use Items to Ditch From Your Life | 1 Million Women
Cobb Salad Recipe | Allrecipes
Wedge Salad Recipe | House of Yumm
Blue Shift: Why Dishwasher Rinse Aid Makes Dishes Cleaner and Drier | NY Times