Dinnerware Guide: Stoneware vs. Bone China
By Fable Staff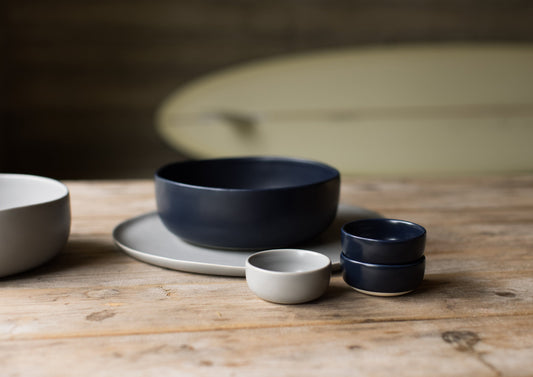 The right dinnerware will be able to set your table for years to come, no matter the meal or the occasion.
There are seemingly endless types of dinnerware on the market, from stoneware to porcelain to bone china. What you choose for yourself all depends on your personal needs and wants. Do you want something durable? Or delicate and intricately designed? Do you want to be able to put it in the dishwasher? Or do you not mind washing your dishes by hand?
At Fable, we pair elegance with convenience providing one-of-a-kind pieces that are made to last. We are going to go over Portuguese dinnerware and bone china, so you can decide what will work best for you.
What Is Portuguese Dinnerware?
Portugal is known for its ceramics with a good reason. The Portuguese have been using clay since prehistoric times. They continue to use the materials found in their country to make art, tiles, and dinnerware for people worldwide.
It began in Caldas da Rainha, which is somewhat of a center for pottery in Portugal. Clay deposits are abundant there, which is the key ingredient in ceramics. In 1884, Rafael Bordalo Pinheiro, an artist, opened up a factory to make and sell his decorative pieces. Soon his work spread from place to place, and Caldas da Rainha became famous.
Since the crafters all over Portugal are passionate and experienced, Fable went to the country to find a perfect partner to make our stoneware. We found a business on the central coast of Portugal that incorporates sustainable craft into every decision, from equal opportunity hiring practices to a focus on zero waste. We knew we'd met our match; today, that partner company crafts all of our ceramic dinnerware.
Our stoneware is made from clay from just a few miles up the road from the crafters making it. The glaze we use is lead-free and does not contain other heavy metals. Fable's stoneware is durable and comes in timeless designs, so it can set your table for many years to come.
What Is Bone China?
True to its name, bone china is made from clay mixed with bone ash.
In the 18th century, Europe was trying to find an alternative to porcelain from China. The import duties to bring the dinnerware from China became too high, and they needed to replace it.
Bone china was perfected just before the turn of the century by potter Josiah Spode. He took six parts of bone ash, four parts of china stone, and three and a half parts of clay and made it into a paste. The result is an ivory-white and robust dish that is thin and translucent.
It was easy for manufacturers to make at the time because its firing temperature was the same as the earthenware they were making. Bone china is more durable than earthenware, so it was an easy decision to make it instead.
Today, bone china is usually more expensive than other types of dinnerware because of the bone ash. It is also more labor-intensive to make. While some like to collect it, bone china is not for everyone. Some people stay away from this dinnerware because of the use of animal products.
Choosing Dinnerware 101
It all depends on your preference when it comes to choosing between Portuguese dinnerware or bone china.
Are you looking for thinner, lighter china? Or do you want something heavier with a more durable feel?
Both Portuguese dinnerware and bone china are extremely strong. While bone china feels very delicate, stoneware has a sturdier quality. Both are nonporous, but unlike stoneware, bone china is translucent. Stoneware is opaque.
Bone china and most Portuguese dinnerware are microwave and dishwasher safe. Although, you may want to use a gentle dish detergent on bone china. You can use stoneware with ease, even putting it in the oven, but you have to be particularly careful with bone china. You can put bone china in the oven, but not if it comes directly from the refrigerator or freezer, because one china does not do well when exposed to rapid temperature changes.
Stoneware is perfect for everyday use, while bone china may not be ideal for consistent use. However, if you're looking for special occasion dinnerware with a unique pattern, you may like bone china. At Fable, our Portuguese stoneware is ethically sourced and built to last. Our designs can fit with any home's aesthetic.
Caring for Portuguese Dinnerware vs. Bone China
When it comes to Portuguese dinnerware and bone china cleaning, you can usually place both in the dishwasher.
At Fable, you can be assured that all of our products are dishwasher safe. As for bone china, it would be best to check the manufacturer's instructions on how to clean it in advance. You don't want to purchase something and later find out it's hand-wash and hand-dry only. Take note: If your dinnerware has a design with metal in it, it prevents it from being able to go in the microwave.
Both stoneware and bone china can be stacked in your cabinets. However, other dinnerware, like fine china, needs to be stored more carefully. You can place a piece of fabric or felt between each piece of fine china to prevent chipping or scratching.
Sometimes flatware can scratch ceramics, but this can easily be fixed with a sturdy brush and a scouring powder. You simply make a paste with the scouring powder and water, apply it to the dish, then use your brush to erase the fine scratches.
Dinnerware Decisions
When shopping for Portuguese dinnerware or bone china, there are a few essential things to consider.
The first is how you are going to be using the dinnerware. Is it for day-to-day use? Or do you want unique dinnerware you are only going to use on special occasions? Portuguese dinnerware is ideal for everyday use, while bone china is usually only used for significant events.
At Fable, our products are elegantly designed, so they work for casual meals and special occasions. They are crafted in Portugal but are less expensive than most bone china. Choose thoughtfully when looking to elevate your next meal.
Sources:
Back to previous page. Rafael Bordalo Pinheiro | Museu Bordalo Pinheiro