Plating Tips for Dinner Parties
By Fable Staff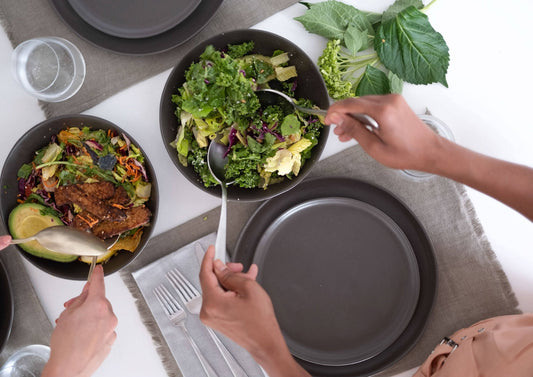 Inviting guests into your home for drinks, food, and good conversation can be a delightful and gratifying experience. However, opening up your home to friends and family can feel overwhelming. There's a lot to think about, from cooking to tableware, but you can become a well-oiled hosting machine with a few helpful tips.
At Fable, we value blissful moments spent with good company and good food, and we want everyone to have more of these memories with high-quality tableware.
To help you out, we have a few things you can keep in mind and implement during your next dinner party. You don't need a chef or an assistant to create a welcoming environment and come off as a relaxed, prepared host.
Read on to learn how to assemble place settings, plate a decadent meal, and so much more.
Tableware for a Formal Dinner Party
One of the first things you have to consider, especially if you live alone, is if you have the proper tableware for the number of guests you are inviting.
Are you going to keep it casual with just a glass, plate, and flatware for each person? Or do you want to do something a little more elevated with a proper place setting?
If you are wondering what a proper place setting even is, we have you covered. While it can vary a little, these are the basic pieces you may need:
Glassware
Usually, there is a water glass and a wine glass included in a more formal place setting. The glasses go on the right and slightly above the dinner plate. The water glass goes closest to the plate, and the wine glass goes next to it.
Small Plate
On the opposite side of the glassware, you can place a small plate. This plate is for things like dinner rolls or a salad in the first course.
Small Bowl
A small bowl is optional based on what you plan to serve. If you are doing multiple courses, a small bowl is necessary for a soup.
You can place the soup bowl directly on top of the dinner plate.
Dinner Plate
A dinner plate for each guest is perhaps the most essential.
This plate is going to be in the center of the table setting and the main focal point.
Flatware
The number of flatware pieces is going to also depend on the number of courses. For a basic dinner party, a fork and a knife will suffice.
If you are going for a more formal setting, you will need a salad fork, a dinner fork, a spoon for soup, a dinner knife, and a butter knife. If you are serving dessert, you may also need a dessert fork and spoon.
To do a full table setting, you place the salad fork furthest from the dinner plate on the left side with the dinner fork next. The dinner knife goes on the opposite side closest to the plate with the butter knife, and then the soup spoon.
You can either bring the dessert utensils out with the dessert or place them horizontally above the dinner plate.
Mug
Another piece to consider is a mug for an after-dinner hot drink, like coffee or espresso, to go with dessert.
You can use the small plate or bowl from dinner to serve dessert if you don't have extras. Just quickly wash them and reuse them.
If you don't have the time or desire to acquire these pieces, consider a more casual dinner party, like a potluck. However, if a place setting is something you can swing, think about a more formal meal with multiple courses.
At Fable, we offer premium stoneware pieces for your place settings. We have small plates and bowls, dinner plates and platters, mugs, and flatware for all your dinner party needs.
Plating the Meal
Food plating and presentation can elevate your guest's dinner party experience considerably.
If you want to go the extra mile, you can plate the meal like a professional by taking a few additional steps.
Build from the bottom up, creating height and layers on the plate. With three-component meals that include vegetables, a starch, and a protein, it's easy to experiment with height and layers. Plating in layers also means your guests can easily get all the components of the meal in one bite.
The bottom layer can be a sauce, puree, or oil to hold the next layer in place. This layer adds texture and color to the plate. You can spread it across the plate with the back of the spoon, or dot it strategically.
The middle layer can be a little pile of food, like rice, pasta, or mashed potatoes. You can use a round cup to help make it look neat. The middle layer can also be your protein if that looks better.
The top layer of your plate can either be the protein. You can slice the meat horizontally and fan it across the middle later. You can also put your longer vegetables here, like string beans or asparagus.
Keep in mind that you don't want it to be too high, or it could topple over, or your guests could feel like they don't know where to start. Creating height and layers when plating can add dimension and make your guests feel like they're in a fancy restaurant.
Plan Ahead
One of the best things you can do for your future self is to plan ahead. Proper preparation will keep you stress-free the night of your dinner party.
Two Weeks Out
Set a guest list and extend the invitations.
Once you know how many people can and can't come, you can check for any dietary restrictions you may not know about.
One Week Out
Plan your menu out based on what seems doable for you. Keep in mind what is in season for meal ideas. Remember to include drinks on your menu.
Also, remember to consider the amount of tableware you have and what, if any, pieces you need to get before.
Think about the type of environment and aesthetic you want. Perhaps think about picking up some candles or flowers for decor. If you decide on flowers, wait until the day before, or the day of, to pick them up for maximum freshness.
Two Days Out
Go grocery shopping and pick up all the ingredients you are going to need, including drinks. Make sure you also get ice or fill up your ice trays.
One Day Out
Do as much of the preparation work that you can. So, clean your home, especially areas where your guests will be.
Also, do any of the meal prep that can be done before, like chopping vegetables, making the dessert, and marinating the meat or protein.
On the Day
Set your table with the necessary table settings and decor.
Begin cooking the meal and try to clean as you go, so you don't have a lot to do when you're done.
Right Before Guests Arrive
Get dressed and light the candles. You can also think about turning on music to play softly in the background.
Set out any appetizers and create a drink station for your guests upon arrival. Grab a drink, take a breath, and relax, knowing that almost everything is taken care of!
Hosting Tips
There are many things to keep in mind when hosting, especially for the first time, so here are a few more to consider.
Begin preparing the meal a little earlier than you think you should. Set out all the ingredients before you begin cooking. These extra steps mean if you are missing a clove of garlic or another random component, you have time to get it.
Accept help if you want it or need it. While some people don't want to let guests do any work, it can be something your guests want to do to feel like they are contributing. So if you're running a little behind when guests arrive and someone offers to help, you can take it. Or if someone wants to help clear the dinner table, it's okay to let them.
Open or eat what your guests bring. Perhaps you told them not to bring anything, but some people just can't show up empty-handed. Show appreciation by serving the wine they brought or the food they want to share along with what you have prepared.
Place salt and pepper on the table. Even if you think the meal won't possibly need it, it's the courteous thing to do.
Go easy on yourself. Don't set your expectations sky-high, making yourself more anxious than necessary. Everything does not have to be perfect for it to be a successful dinner party.
All Set for a Memorable Party
Hosting a dinner party can be a fun, stress-free experience for anyone.
With proper preparation and forethought, you can give your guests a night to remember, and with Fable on board, providing high-quality tableware designed to fit any theme or occasion, your party is bound to be a success.
Sources:
Top Chefs Share Their 10 Food Plating and Presentation Tips | Light Speed HQ
Food Plating: 7 Tips for Plating Your Food Like a Chef | LA Tourangelle
How to Host a Dinner Party - T Magazine Guides | New York Times