The Best Bowls for Mise en Place
By Fable Staff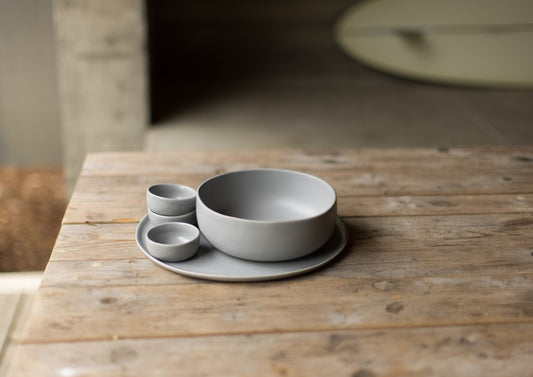 Friends and family are typically the biggest fans when it comes to your homemade meals and baking. Whether they are constantly complimenting your cooking chops or love your homemade baked goods, homemade food is a great way to show the people around you how much you care and how willing you are to go above and beyond for them.
However, there's no denying that homemade meals and treats can be bittersweet. While they put a smile on everyone's face, a lot of hard work goes into the food behind the scenes, and countless hours of planning can sometimes be required.
The first step to culinary success is choosing a recipe. However, this can sometimes be difficult when trying to take various dietary restrictions or allergies into consideration. Once you land on a specific recipe, it's go time.
Next, you'll want to ensure that you have all of the right ingredients. This may require a quick trip to the supermarket.
Once you're home and ready to get started, there's always a lot of pressure to make things perfect. What often goes unspoken is all of the small mistakes that can potentially be made along the way. Some smaller mistakes are easy to brush off, pretend as if they never happened, and keep moving full steam ahead. Others may require you to start from scratch again.
We want to let you in on a little secret, as it will take away some of the stress of entertaining your guests with your cooking skills. Things don't need to be this complicated. Cooking a new dish or trying a new recipe can be quite easy and fun if you spend a little extra time planning and using a special technique—mise en place.
What is Mise en Place?
Mise en place is French for "putting in place" or "everything in place." It's the process of preparing all of your ingredients, equipment, and space before you begin cooking.
Various chefs and bakers swear by the mise en place technique as it helps speed up the process while enabling precision and being in the kitchen.
Individuals have different things to say about mise en place; however, the one thing each review tends to have in common is that they all say wonderful things.
What Size Bowls Do You Need?
Mise en place requires a few pieces of equipment. For one, you need a cutting board to prepare all of your ingredients on after you have cleaned them. You'll also need a few measuring cups and measuring spoons to ensure you set aside the correct amount of each ingredient.
The main thing you need to prepare all of your ingredients successfully is bowls. You must have a bowl for each ingredient that you will be using.
Each ingredient in a recipe is typically used in a different amount, and the recipe will call for different proportions. For example, while you may need half a cup of flour, you may only need a teaspoon of salt or baking powder. Therefore, you may need a different size of bowl for each ingredient.
Tiny Bowls and Small Bowls
You will need a few tiny bowls for every recipe that you are preparing. These little bowls are great for spices and things that come in small sizes.
Our Everything Bowls are the perfect tiny bowl to use for mise en place. They're so tiny that they can sit in the palm of your hand. They are 3.4 inches in diameter and 1.4 inches in height, and each holds 2.7 fl oz. These bowls are organically shaped and one-of-a-kind.
Our Cereal Bowls are also perfect for mise en place. They're a bit larger, although still relatively small. Don't let the name fool you; these bowls are ideal for almost everything. From soup to salad, yogurt to ice cream, or your ingredients when cooking—such as flour and sugar, or diced fruits and vegetables.
Hand-finished in Portugal, these bowls are 6 inches in diameter and 2 inches in height. They can hold 16 oz each, which makes them a perfect small bowl for trying new recipes.
Medium Bowls
When it comes to using a medium bowl for mise en place, our best recommendation is to use something wider and more shallow. We suggest this over using a tall, deep bowl for your medium-sized ingredients as it'll help you easily differentiate between foods at a glance.
Our Pasta Bowls are the perfect medium-sized bowl for prepping your ingredients. Again, don't let the name throw you off! They're great for so much more than just pasta. Each Pasta Bowl is 8 ½ inches in diameter and 2 ¼ inches in height, and each weighs 1.7 lbs and holds 26 fl oz. These bowls come in a set of four, which means you can enjoy them for more than just ingredient preparation.
Large Bowls
The next step is to use a large bowl. An instance when you may need a larger bowl is when you combine wet or dry ingredients. For this, we would recommend using the Serving Bowl.
Like all of our other bowls, this Serving Bowl is great for more than mise en place. It's a beautiful way to present fresh summer salads to your guests, and also perfect for serving up a big bowl of popcorn during a movie night.
Just like all of our other bowls and dinnerware, the Serving Bowl comes in five different colors: Speckled White, Midnight Blue, Dove Gray, Blush Pink, and Beachgrass Green.
How Many Bowls To Use
Once you have a wide range of bowl sizes available to you, it's important to consider how many bowls you will require for the recipe you're making. This can vary from recipe to recipe, as it all depends on how many ingredients you are using. We recommend using a bowl for each ingredient that you have.
If you run out of bowls, try doubling up ingredients that are similar to one another and will be added to your recipe at the same time in the same way. A great example of this can be baking powder and baking soda.
Selecting the Right Bowls
Selecting the right bowls for each ingredient is also important. Our rule of thumb we always follow is to pick a bowl that perfectly fits the ingredient. Use your common sense here. For instance, you probably don't want to use our Serving Bowl for the pinch of salt your recipe calls for.
When selecting the right bowls, we recommend trying to opt for bowls that are dishwasher safe. This will make your life extremely easy when it comes to cleaning up. Rather than washing everything by hand, you can just rinse and load each bowl into your dishwasher.
The only other thing you'll have left to do after you're done cooking or baking is to wipe down your countertops, as you'll already have put all of your ingredients away.
Another advantage that you should look for is bowls that are oven safe or oven proof. While you may think this is unnecessary, it's a great help when your recipe calls for your ingredient to be toasted and you just want to place it in the oven for a brief moment. That way, you don't have to use additional pots and pans.
Nothing But the Best
The other fun thing about mise en place is that it makes for a trendy picture. We always see those picture-perfect moments that make us envious of what the person on the other side of the screen is enjoying. Fable wants to help you create those great kitchen memories that are worth sharing with everyone—or keeping a secret to hold near your heart.
While photographs are a great way to share your joy created by food with those around you, there are countless other ways to spread the joy. We feel our best when we do our best, which is why we have teamed up with Mealshare.
Mealshare has made its mission to fight youth hunger through partnerships with restaurants and companies in the food sector, like us. Our mission is simple; we want to bring joy to every table.
For every purchase you make from Fable, a meal is directly donated to a person in need through our partnership with Mealshare. Together, this has enabled us to provide thousands of nutritious meals to date.
Picking the best bowls for mise en place doesn't need to be a daunting task. At Fable, we have all of the bowls you need to succeed when preparing all your ingredients for your next home-cooked meal. You can now experience all of the benefits of mise en place whenever you are trying out a new recipe.
Sources:
Mise en place, a culinary term chefs live by | Mealshare
What Oven Safe Means - Resource | Smartkitchen.com
Mealshare - Buy a meal, Give a meal - A Restaurant Charity Program | Mealshare
Use "Mise en Place" to Make Meal Preparation Easier | UNL.com