French Design and Mise en Place
By Fable Staff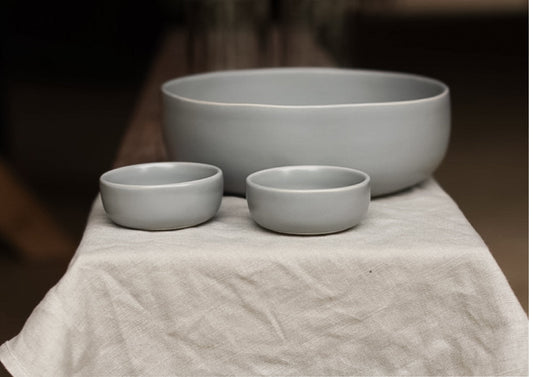 You don't need to hop on a plane and fly to France to learn about French design and cuisine. While it is, of course, a wonderful privilege to be able to do so, you don't necessarily need to travel in order to do research to transform your kitchen at home into one that encapsulates a French environment. 
There are a few great places to start if you're trying to get the whole experience. French design and mise en place are two of them. We want to share our knowledge with you to make the most of the space you're in, encourage your individual design taste to continue to grow, and help you create stories with the people you love that are worth telling later on.
French Kitchens
There is something magical about a French kitchen. We aren't quite sure if it's the delicious food, the warm and welcoming environment, or a combination of the two that makes these kitchens so unique. Either way, in our opinion, the classic French kitchen is an environment that is highly worth replicating in your own home.
French kitchens encourage spending time with friends and family in a laid-back setting. They help tell the story of your family history and encapsulate years of memories.
Contents of a French Designed Kitchen
The contents of French-designed kitchens are what makes them feel so special. Often, the walls are painted a white or cream color, which makes the room feel bigger, lighter, airier, and more laid back. The whites used on the walls are accompanied by warmer tones that remind you of the French countryside and welcome you with open arms. 
If you feel like going the extra mile to create a French-feeling kitchen, take advantage of any exposed walls you have. Older-looking surfaces add a rustic and vintage charm to any space. Your kitchen should also include modern elements. The contrast between the two helps communicate the evolution, love, and time put into the space.
A gas range stove with a large hood is frequently found in French kitchens. This large hood is sometimes made from the same metal material as the stovetop, and often features beautiful crown molding. This is a great way to make a chic statement in your kitchen. 
These kitchens often play with earthy tones. Chairs are made from wicker, and countertops are often made with natural marble stone to keep things basic and timeless. We recommend using tableware that also takes a simple and natural approach to things. 
For example, these Speckled White Dinner Plates pair perfectly with your French-inspired kitchen. The simple and elegant design of these dinner plates can be dressed up or toned down for any occasion. Our dinner plates are flat with a low rim around the edges, making them easily stackable and beautiful to the eye when placed on an open shelf. Each plate is organically shaped and one-of-a-kind, which encapsulates the casual yet carefully curated feeling you want to encompass in your kitchen.
You can also incorporate a set of Dining Essentials into your kitchen in a Dove Gray or Midnight Blue color. This set allows you to host with the most, and includes everything you need to throw gorgeous dinner parties with your favorite people. This set makes it easy to keep things simple yet stunning, as the high-quality 18/10 stainless steel flatware and hand-finished ceramics work seamlessly to complement one another.
French kitchens love to take advantage of the nature they are immersed in. At Fable, we're often inspired by the nature that surrounds us, which is where we draw a lot of the inspiration for our colors, textures, and materials from. We think there is great joy in the origins of regional craft and diverse landscapes, as they offer organic and one-of-a-kind stories. 
We believe in being transparent with you to make educated and informed decisions regarding what you choose to purchase, and the impacts on your wallet and the environment. That's why we're proud to share our impact report with you. It's also why we remain an open book when it comes to our pricing model. Head over to our home page to learn more about the specifics of our cost breakdown.
Try adding a pop of color to your kitchen as a final touch. A great way to do this is with your salt and pepper shakers. Gorgeous, tall, rusty red salt and pepper shakers are bound to look amazing with your neutral kitchen, and will look even better when you set the table for your guests.
Cooking in Your Kitchen, the French Way
Once you have a gorgeous kitchen set up, the only thing left to do is use it! Kitchens are made to get messy in; there is no point in having a beautiful, picture-perfect kitchen if you can't cook in it.
Mise en Place
In French, "mise en place" translates to "putting in place." The term can refer to the way that a kitchen is prepared before you start cooking. This preparation goes for everything from food to equipment to dishes. 
It's often said that mise en place makes cooking ten times easier, and can even speed up the process. Mise en place was introduced later in the 1800s and is still commonly used as a wonderful cooking technique by many chefs today. 
Mise en place is the process of preparing all of your ingredients before you start cooking. You take everything out of the fridge and cupboard, then wash, dry, measure, and prepare each ingredient before putting it in a bowl and setting it aside. You should do this with all ingredients, then begin to combine them as you start cooking. 
Mise en place requires various bowl sizes, as you want to ensure that you are making use of all the space you can. For ingredients that take up quite a bit of space, such as sugar or flour, we recommend using our Pasta Bowls or Serving Bowls. We would suggest using our Cereal Bowls for medium-sized ingredients. Our Everything Bowls are great for small-sized ingredients such as spices, sauces, or oils. 
Advantages to Mise en Place
There are many advantages to following the mise en place technique when cooking and baking. The most notable major advantage is that, once you get the hang of it, you'll save yourself time that you can instead spend with your friends and family.
Mise en place takes a lot of the frustration out of cooking or trying a new recipe. Given that all of your ingredients are prepared and ready to go, you won't risk getting halfway through your recipe and realizing you are missing something—or even the main ingredient. 
Plus, it will take the frustration out of having to get the timing right. Instead, all of your ingredients will be prepped so that you can direct your attention to using the proper mixing and integrating techniques.
Another advantage to mise en place is that it helps you stay organized. Mise en place requires a bit more planning, which helps ensure that you purchase all of the correct ingredients next time you're at the grocery store and are interested in trying a new recipe. 
French Vacation From the Comfort of Your Own Home
Given COVID-19, traveling has been at a standstill for quite some time. As the world begins to open once again, we're always looking for ways to welcome everyone with open arms. We want to play our part in helping those around us create new and happy memories.
Rather than traveling, you can enjoy French design, recipes, and cooking techniques from the comfort of your own kitchen. 
Given the current circumstances, and even before the pandemic took hold, we recognize the unfortunate reality that not everyone can experience joy through food. 
We want to help spread the joy that you experience at home with others who are less fortunate through Mealshare. At Fable, we are always searching for ways to bring joy to every dinner table. 
Mealshare does just this. Every time you purchase an item from Fable, a meal is donated to a family or youth in need. We know we feel our best when we are doing our part—and we hope you do, too.
So, while you might be itching to get on that plane and travel to France for its gorgeous landscapes and cuisine, consider spending your money in other ways that benefit those around us. By working together, we can generate a world that we are proud to live in.
Keep It Casual with Your French Kitchen
Transforming your kitchen into a place that encapsulates the French lifestyle can be lots of fun as you discover all of your favorite French attributes and begin to incorporate them into your home. Have fun with the planning, and enjoy your gorgeous new French-inspired kitchen!
Sources:
What You Should Know Before Buying Wicker Furniture | The Spruce 
Mealshare - Buy a meal, Give a meal - A Restaurant Charity Program | Mealshare 
10 French Lifestyle Tips You Can Practice Anywhere | Mon Petit Four