How to Choose the Right Tableware
By Fable Staff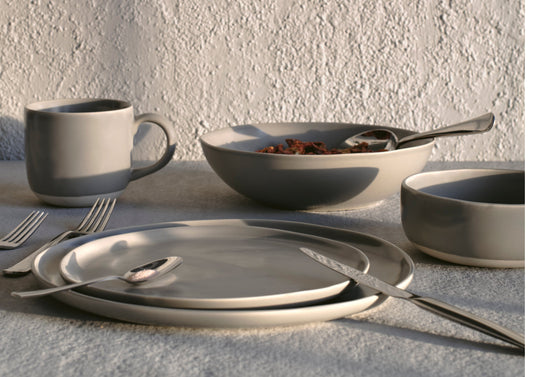 During any holiday or dinner party, tableware is the backdrop of the meal. The perfect tableware set can enhance the experience of the gathering beyond expectation, while also expressing the host's personal style.
There are many different types of tableware, from formal settings to casual everyday pieces. They also come in a variety of materials, shapes, and colors, so you can find something that cohesively fits your home.  
Fable provides timeless pieces to fit any aesthetic. We are going to go over how to choose the right tableware for your home. 
Types Of Tableware Materials
Before you pick the pieces you want and the designs of tableware, let's go over the many different materials they come in. The most common tableware materials are earthenware, bone china, porcelain, and stoneware.  
Each type is uniquely different and can help you narrow down your search based on what you're looking for. 
Porcelain:

Porcelain is made from

porcelain clay

and is versatile and durable thanks to the high firing temperature. Porcelain is often dishwasher, microwave, as well as oven-safe. 
Bone China:

Bone china is lightweight but durable, making it chip-resistant. It is a good choice if you want something for everyday use but still looks elegant for dinner parties. Unlike fine china, it is usually microwave and dishwasher-safe.
Earthenware: Earthenware is made from clay that is fired at a relatively low temperature. Since it is a low temperature, it is often not as sturdy as other options and is somewhat porous. 

However, earthenware appeals to people looking for something that looks casual with a natural feel. It is one of the oldest industrial materials, and earthenware pieces are heavy.

Earthenware tableware is sensitive to unexpected temperature changes. To keep it looking new, avoid putting it in the oven or in a microwave with a high power level setting. It also needs to be adequately glazed. Otherwise, it is not waterproof, and liquids will soak into it. 
Stoneware:

Stoneware tableware is also made from clay, but the clay is different than earthenware materials. 

Stoneware

is fired at a high temperature, making it more durable with a denser, stone-like quality than earthenware. 

The finished product is waterproof, and it does not necessarily need to be glazed, but some sets have a special finishing glaze. At Fable, our stoneware is dishwasher, microwave, and oven safe up to 450ºF. 
Selecting the Basics 
Once you have selected the material you want your tableware to be, you can look into the different settings. You can also purchase individual sets and create your own setting or purchase a complete tableware set to make life easy
A formal tableware set is usually sold by what a single person would need at the table. A place setting usually includes five to six pieces: a dinner plate, small plate, bread plate, teacup, saucer, and some come with a soup bowl.
There are also sets that provide multiple place settings for numerous people at a table. At Fable, we offer two different types of bundles. Our Dining Essentials set has you covered for any occasion at all, and includes dinner plates, small plates, mugs, and a 20-piece Flatware Set. Our Dinnerware Set is a 16-piece stunner, with all of the above ceramics (no flatware).
Fable also sells individual sets so you can mix and match within our collection to fit your family's needs. 
Depending on your family size and entertainment needs, it can be beneficial to invest in eight to 12 place settings. While you might not need this many pieces every day, having them ensures that you will always have enough. 
Some people choose to have special tableware for entertaining and more casual pieces for everyday use. However, this can be difficult if you don't have a lot of storage space. 
A better choice could be to invest in one collection that can do both. You can choose a simple color or design and then dress it up for dinner parties with accessories like placemats, napkins, and linens. 
 Fable features timeless designs that will last for years. Our bundles allow you to mix and match with different colors for your set. Since our glazes are specifically chosen to pair well together, they will look cohesive no matter what you chose. Go ahead, let the interior designer in you come out—you'll be glad you did.
Styles of Tableware
We all know that tableware comes in many different styles, and with various designs suited to different aestheticsSome sets come in solid colors, have patterns, or are hand-painted, which allow people to express their own style and find pieces that complement their home decor. 
Here at Fable we offer a range of colorways like Speckled White, Dove Gray, Blush Pink, and Midnight Blue. Neutral colors are the most versatile because they work with any decor or on any holiday. We strive to offer pieces that you want to purchase for longevity, so our products are mostly solid colors, with the exception of the speckles in our white glaze. 
You can dress them up with intricately patterned table  accessories, or create flower arrangements to elevate your table for a party. Of course, the food you serve is the real art when you are plating a meal, and everything looks good on a solid-colored backdrop.
Caring For Tableware
To keep your tableware looking great for years, you have to care for it properly. While Fable products are dishwasher safe, some other tableware brands are handwash only. Also, when using the dishwasher, you'll want to be mindful and give your pieces room so they can shift during the cycle and not chip. 
If you have stoneware, it can become scratched from your flatware, but you can remove these superficial marks. Fable's Tawashi Brush does an excellent job at cleaning stoneware. 
You can use a scouring powder or make a paste with lemon, water, and baking soda. Put the powder or paste on your ceramics and use the brush to buff away any stains or marks. Rinse it off with soapy water, and it will look like new. 
A Perfect Ending to a Meal 
Selecting tableware can take some forethought with all of the different options on the market. 
Fable offers tableware bundles and also allows you to choose individual sets. We have basic colors that you can mix and match, and they will fit in with any style. Our timeless designs are durable, sustainably crafted, and will last for years to come with proper care. At the end of the day, it's an easy decision to outfit your home with Fable ware. 
Sources:
Chinese Porcelain Silk Roads Programme | UNESCO
Scouring powder definition and meaning | Collins English Dictionary